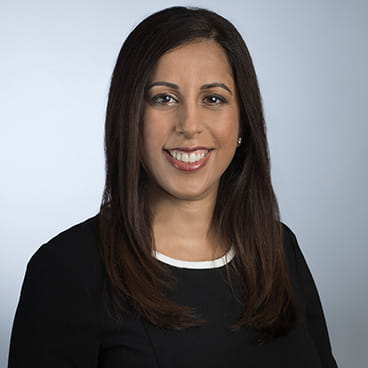 Director, US Investment Strategist
Ms. Mahajan is the US investment strategist and a director with Allianz Global Investors, which she joined in 2017. As a member of the Global Economics and Strategy team, she is responsible for providing US retail and institutional clients with differentiated investment thought leadership. Ms. Mahajan is also a key spokesperson, communicating – both internally and externally – the firm's high-conviction investment ideas and views from the Global Policy Council. Ms. Mahajan was previously a fixed-income portfolio manager, a structured-finance product specialist and a global market strategist at MetLife. Prior to this, she was an emerging-market strategist at Mirae Asset Global Investments; she also worked at hedge fund companies Para Advisors and Ziff Brothers Investments. Ms. Mahajan has a B.S. in economics from The Wharton School, The University of Pennsylvania; a B.A.Sc. in computer sciences from the University of Pennsylvania; and an M.B.A. from Harvard Business School.
Insights by Mona Mahajan
Outlook & Commentary
Although the Democrats now control half of the US Congress, we believe President Trump's economic agenda is unlikely to be significantly altered. A divided government could also give equities a bounce, particularly now that election-related uncertainty has been removed.
Investment Themes & Strategy
With each new round of tariffs and trade deals, the financial markets are experiencing bouts of volatility as they reprice how economies could be affected. From Trumponomics to Brexit, our experts explore what it all means – and what the future may hold.
Investment Themes & Strategy
After staying stuck in a narrow band for much of 2018, 10-year Treasury yields have only recently stayed above the 3.05% barrier for a prolonged time. This could be the beginning of a sell-off in Treasuries that pushes yields higher, though other factors are putting downward pressure on yields as well.