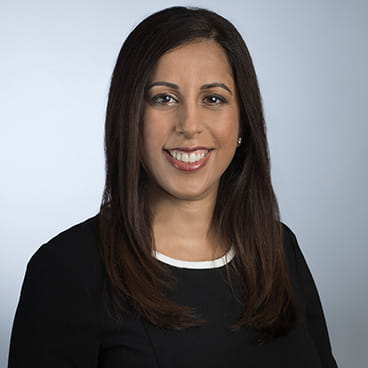 Director, US Investment Strategist
Ms. Mahajan is the US investment strategist and a director with Allianz Global Investors, which she joined in 2017. As a member of the Global Economics and Strategy team, she is responsible for providing US retail and institutional clients with differentiated investment thought leadership. Ms. Mahajan is also a key spokesperson, communicating – both internally and externally – the firm's high-conviction investment ideas and views from the Global Policy Council. Ms. Mahajan was previously a fixed-income portfolio manager, a structured-finance product specialist and a global market strategist at MetLife. Prior to this, she was an emerging-market strategist at Mirae Asset Global Investments; she also worked at hedge fund companies Para Advisors and Ziff Brothers Investments. Ms. Mahajan has a B.S. in economics from The Wharton School, The University of Pennsylvania; a B.A.Sc. in computer sciences from the University of Pennsylvania; and an M.B.A. from Harvard Business School.
Insights by Mona Mahajan
Outlook & Commentary
Economic uncertainty in emerging markets, potential contagion to other nations and trade disputes could stall the vibrant first-half US equity-market rally. But the markets could stabilise towards year-end as mid-term elections conclude – particularly if trade disputes improve and corporate earnings remain robust.
Investment Themes & Strategy
Tax reform has given the US economy a second wind and widened its divergence from the global economy, which has faltered amid fears of trade wars and emerging-market uncertainty. Sector rotation in US equities could make tech and consumer discretionary attractive; energy and industrials may also benefit.
Outlook & Commentary
Three factors appear likely to shape the US economy through the rest of 2018: trade tensions, mid-term elections and the Fed's road to normalisation. In a late-cycle environment marked by the potential for tail risks, investors should take a closer look at small caps, energy, high yield and alternatives.