Active is: Anticipating what's ahead
Are we running out of policy options for the next crisis?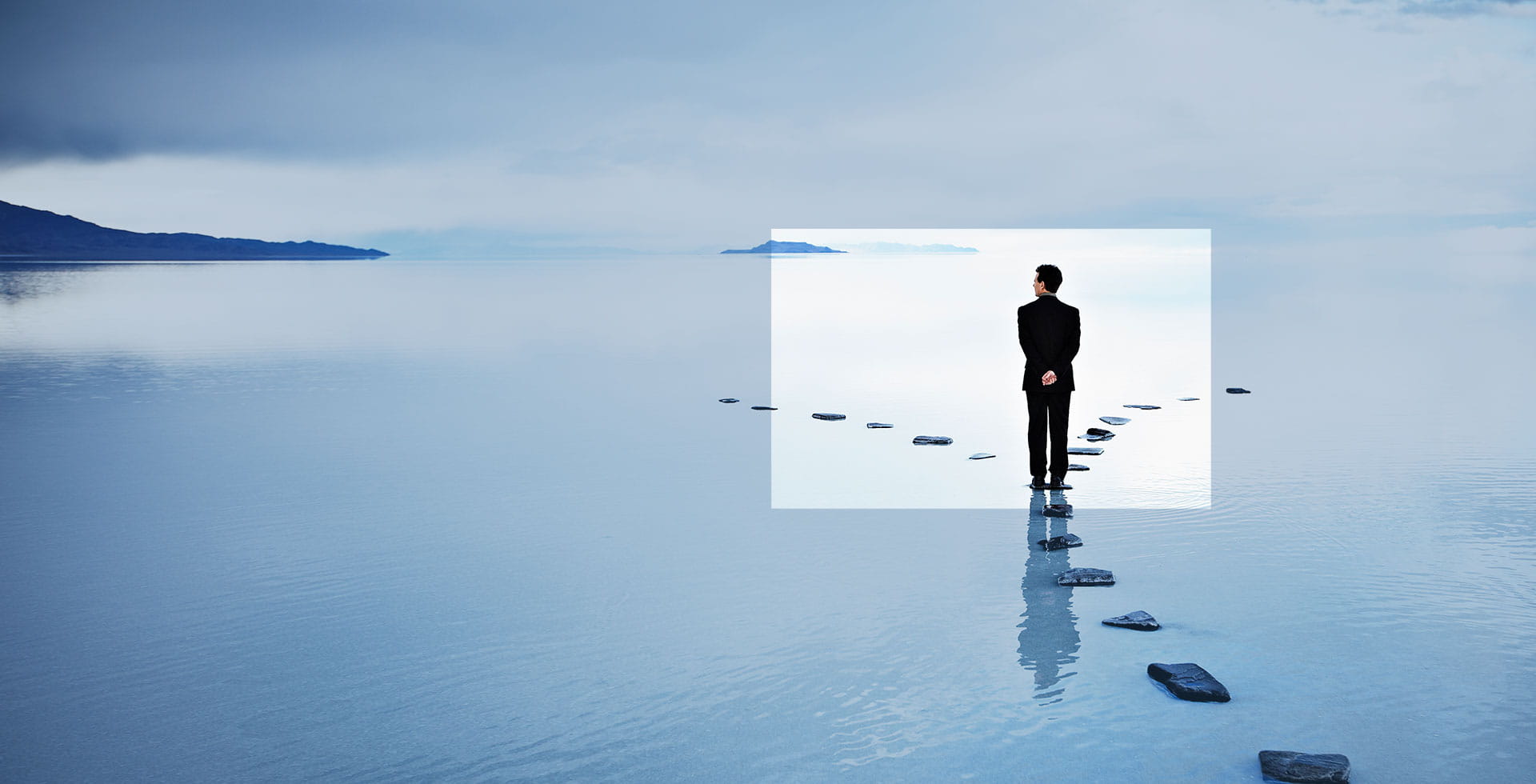 Summary
The global economy will eventually face another downturn, which raises critical questions. With rates so low, what tools do central banks have left to spark a turnaround? What other monetary, fiscal or structural changes could head off problems? And what might happen if we don't change our policy approach?
Key takeaways


New debates about the Phillips curve and modern monetary theory show disagreement among politicians and economists about how central banks should operate
While additional monetary-loosening measures (including Fed rate cuts) could extend the current cycle, they might also create risks for financial-market stability
There are compelling arguments for central banks to begin raising rates over time, rather than cutting them
Structural reforms (such as investing in education or implementing targeted deregulation) may be better than monetary and fiscal policy at lifting economic growth over the long term
Do central banks have any ammunition left to ward off the next recession or economic crisis? Rate cuts have long been the conventional tool for fighting off downturns, but interest rates globally are already in low or even negative territory. Indeed, the US Federal Reserve recently cut its benchmark rate not because the US economy is doing poorly, but as an "insurance" measure to keep the economy growing.

Given today's low rates, central banks and policymakers around the world are looking for new tools they can use during the next economic downturn. Yet not only is there no consensus about which options will be effective, but questions are being raised about assumptions that were once widely held – including how much central banks need to worry about inflation and whether government deficits matter at all. All told, the stage is set for a robust debate about which monetary, fiscal and structural policy measures will – or won't – work.


What monetary policy can do – and what it can't
Understanding which options central banks have starts with understanding what they do. To perform their core functions – generally speaking, to speed up or slow down economic growth – the tool they most commonly use is raising or lowering interest rates.

Today, rates are already very low in several major economies, and some developed nations have even implemented negative rates designed to encourage banks to lend rather than hold cash. But if rates move too far into negative territory, companies and individuals are more likely to remove money from negative-yielding accounts and hold it as cash. This weakens the banking sector and hurts economic growth, since this cash isn't being put to work as investments or consumption.

Policy rates set by major central banks are at low or negative levels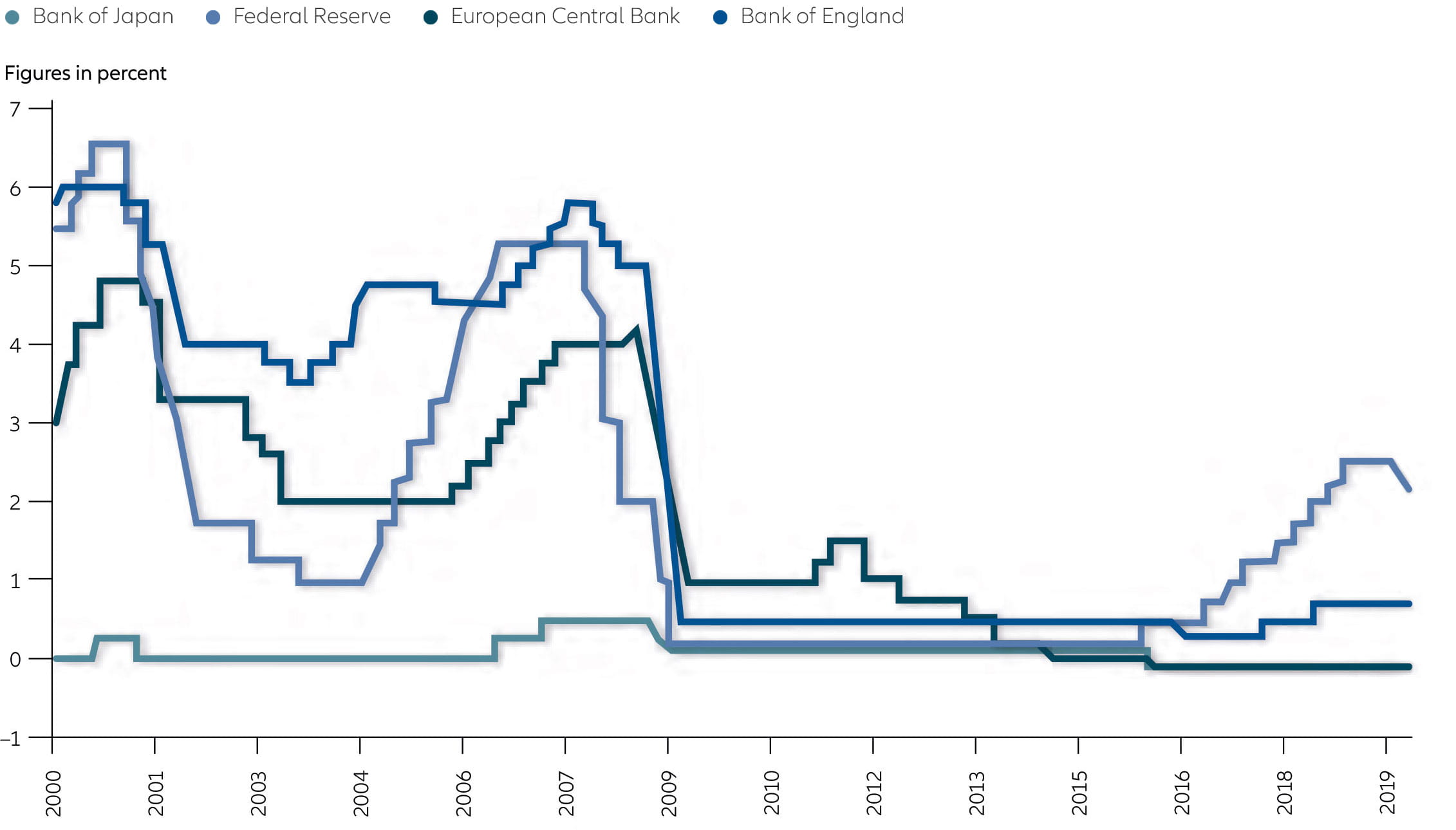 Source: Refinitiv Datastream. Data as at 31 July 2019.


Another conventional tool central banks use is providing liquidity – for example, through short-term measures similar to the Fed's injections of capital into the US banking system during the 2008 financial crisis. More recently, the European Central Bank has launched multiple rounds of its "targeted longer-term refinancing operations" (TLTRO) programme to encourage banks to lend. Yet it's reasonable to question whether banks today need these kinds of liquidity injections at all.

So what about so-called unconventional instruments? In most environments, central banks have several choices at their disposal, but each one presents potential problems:
Asset-purchase programmes meant to boost liquidity or lower rates could have the reverse effect. Since the financial crisis, major central banks have used asset purchases (such as buying up bonds) on a massive scale, causing their balance sheets to balloon. The Bank of Japan owns more than 40% of all Japanese government bonds, which has brought trade in these issues to a standstill several times in recent years.
Central banks can modify the "forward guidance" they use to communicate the future level of interest rates, but their statements are only as effective as their ability to hit their own interest-rate targets.
Central banks can use "helicopter money" to inject liquidity directly into government accounts or private households. But most economists reject this extreme measure for fear it would jeopardise confidence in the monetary system.
There is another monetary-policy option for central banks – one that goes beyond deploying the conventional range of monetary-policy instruments. Simply put, central banks can adjust their objectives. For example, the Fed is considering setting a multi-year average inflation goal instead of using one specific target. But here, too, success depends on the private sector having confidence that the new strategy will be implemented successfully.


The costs of further monetary stimulus
Although central banks have many options for supplying monetary stimulus, there is a robust debate – sometimes a political one – about whether this stimulus is needed at all. One example can be found in the US, where the Fed is facing questions from both sides of the political spectrum about whether it relies too much on the Phillips curve (which measures the relationship between wages and inflation). Traditionally, the Fed has cited the Phillips curve as a reason not to keep rates too low out of fear that subsequent low unemployment will cause inflation to roar back. But some Fed critics think the Phillips curve is "dead" – that inflation and unemployment will both stay low – so there is more room for the Fed to supply additional stimulus.

However, the adverse side-effects of too much monetary stimulus can be easily overlooked:
With rates at very low levels and balance sheets inflated, it becomes more difficult for central banks to respond to a downturn using monetary stimulus.
Low interest rates could cause savers to overallocate to low-yielding accounts (or hoard cash) as they try to meet their savings goals. Saving too much and consuming too little can slow down an economy – exactly the opposite of what low rates are meant to achieve.
Too much monetary stimulus can jeopardise financial stability. When rates are low, risk-taking and debt levels rise, which can cause credit and asset bubbles. And when the economy eventually slows down, companies struggle to maintain their debt burdens – raising the risk of defaults.
Some warning signs are already evident in the current environment. The leverage (debt levels) of US non-financial companies has again reached all-time highs. In addition, weak companies have been renewing cheap bank loans, creating a large number of "zombie companies" with low productivity and high debt.

Against this backdrop, it may make more sense to raise interest rates to a neutral level over time – one that neither stimulates nor slows growth. Consensus estimates put the US neutral rate at 3%, though it differs for other regions.

Non-financial debt is at historically high levels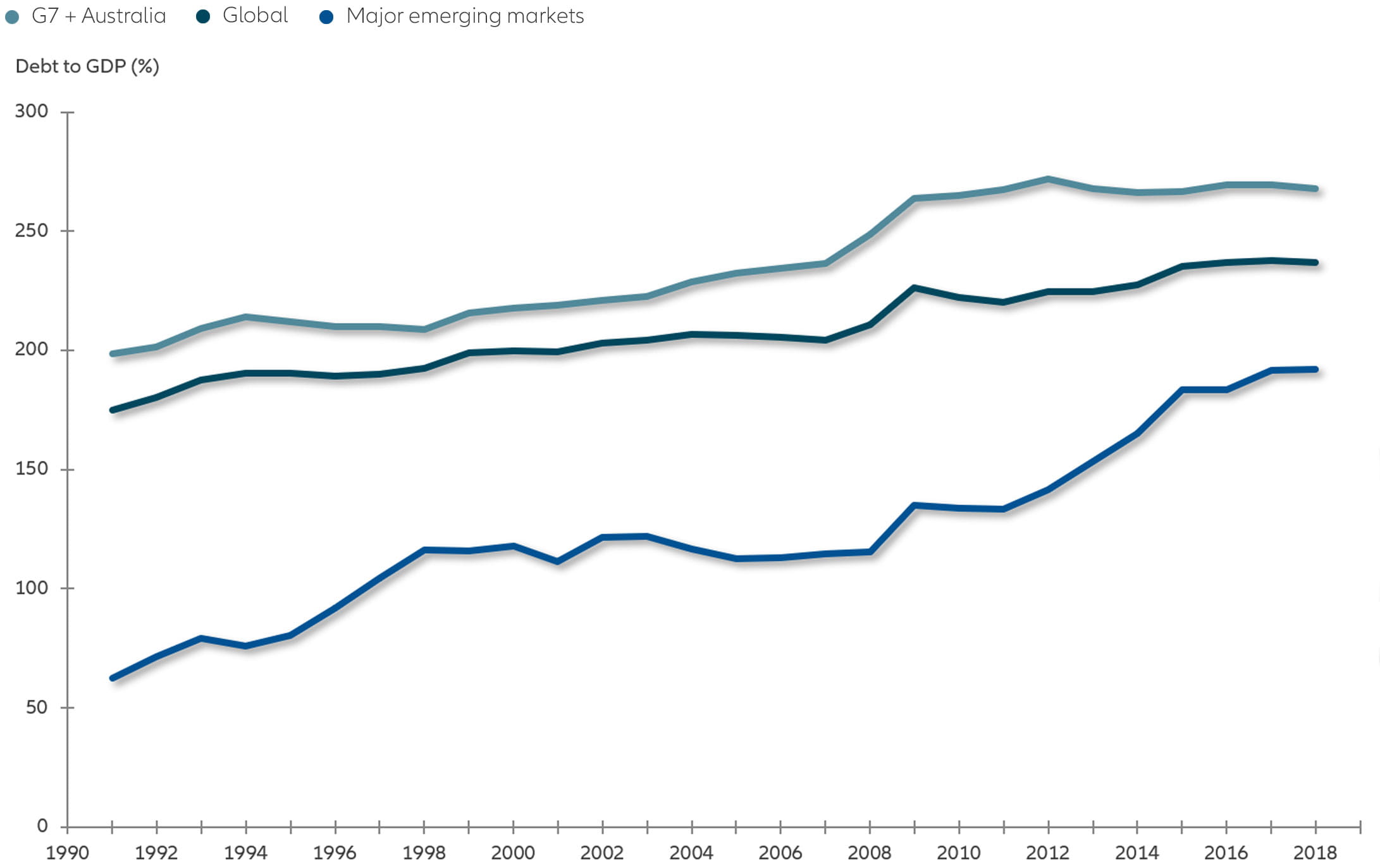 Source: Allianz Global Investors, Bank for International Settlements. Data as at Q4 2018. Chart shows non-financial debt as a % of GDP. G7 nations: Canada, France, Germany, Italy, Japan, United Kingdom, United States.


The need for fiscal stimulus
Since the central-bank arsenal is limited in scope and effectiveness, there are increasing calls for governments to provide fiscal stimulus in the form of increased spending, reduced taxation or both. With the US-China trade war and Brexit increasing uncertainty and dampening investment activity worldwide, some argue that fiscal stimulus is needed to spark growth.

The problem is that many industrialised countries are already in debt and find it difficult to increase spending or reduce revenues. High public-debt levels can reduce potential growth in the long term – and public debt in industrialised countries already averages around 120% of GDP, which is on the historical high end. Moreover, many European countries have deficit ceilings that limit their ability to use fiscal-stimulus programmes.

Advocates of "modern monetary theory" (MMT) see no problem with this. They argue that a country's fiscal leeway is ultimately inexhaustible: the central bank, being a public institution, can buy an unlimited volume of government bonds to fund spending. However, this ignores the fact that such a policy would undermine long-term confidence in a country's currency.


Structural-policy changes are necessary
Both monetary and fiscal policy can address weaknesses in overall economic demand, but they can't fix inherent structural problems within an economy, such as low productivity. In fact, in extreme circumstances, employing more aggressive monetary and fiscal policy tools can be counterproductive if they lead to a misallocation of resources. But implementing long-term structural reforms can help to boost the overall international competitiveness of an economy and make it more productive and innovative.

Structural reforms may include financial support for start-ups, smart investment in education, targeted deregulation or international trade deals. Implementing structural changes such as these can address aggregate supply in an economy may be more suitable for lifting economic growth over the long term – not just temporarily.


Considerations for investors
Despite the limitations of "loose" monetary policy in the form of low interest rates and other measures, central banks around the world seem intent on continuing down this path. The Fed has resumed cutting rates as "insurance" aimed at keeping the US economic expansion going. The ECB is launching a new round of bank loans and raised expectations of interest-rate cuts and bond purchases in the near future. In addition, earlier this year, the Bank of England retreated from its plans for multiple rate increases.

Equity markets have generally embraced the news of more monetary-policy stimulus, but not always:
Risk assets, like equities, usually react positively to monetary stimulus if economic data are also improving. But recent data have been fairly weak throughout the world – and there is good reason to think the numbers could get worse as growth slows.
The idea that more monetary stimulus results in higher equity prices isn't always true. Major setbacks frequently occur even in periods of low interest rates.
While it's true that more monetary stimulus could extend the current cycle, it could also jeopardise financial-market stability. Just consider how a decade of "cheap" money has caused public- and private-sector debt to rise to historically high levels. These bills will eventually come due.
If a recession were to hit, more fiscal stimulus in the form of tax cuts or government spending could take some of the burden off of central banks to find monetary-policy solutions. But it's difficult to see how this level of fiscal stimulus would happen on a global and coordinated scale.
Improving the global economy's long-term growth outlook will likely require successful structural-policy changes (such as investing in education or implementing targeted deregulation) that can have a positive impact on productivity growth.
From our perspective as an active asset manager, it's clear that the monetary policy of central banks isn't the only factor to watch when making portfolio decisions. There are other ways for policymakers to make an economy stronger or weaker – including by changing fiscal policy or implementing structural changes. Investors would be wise to watch these factors as well.


934662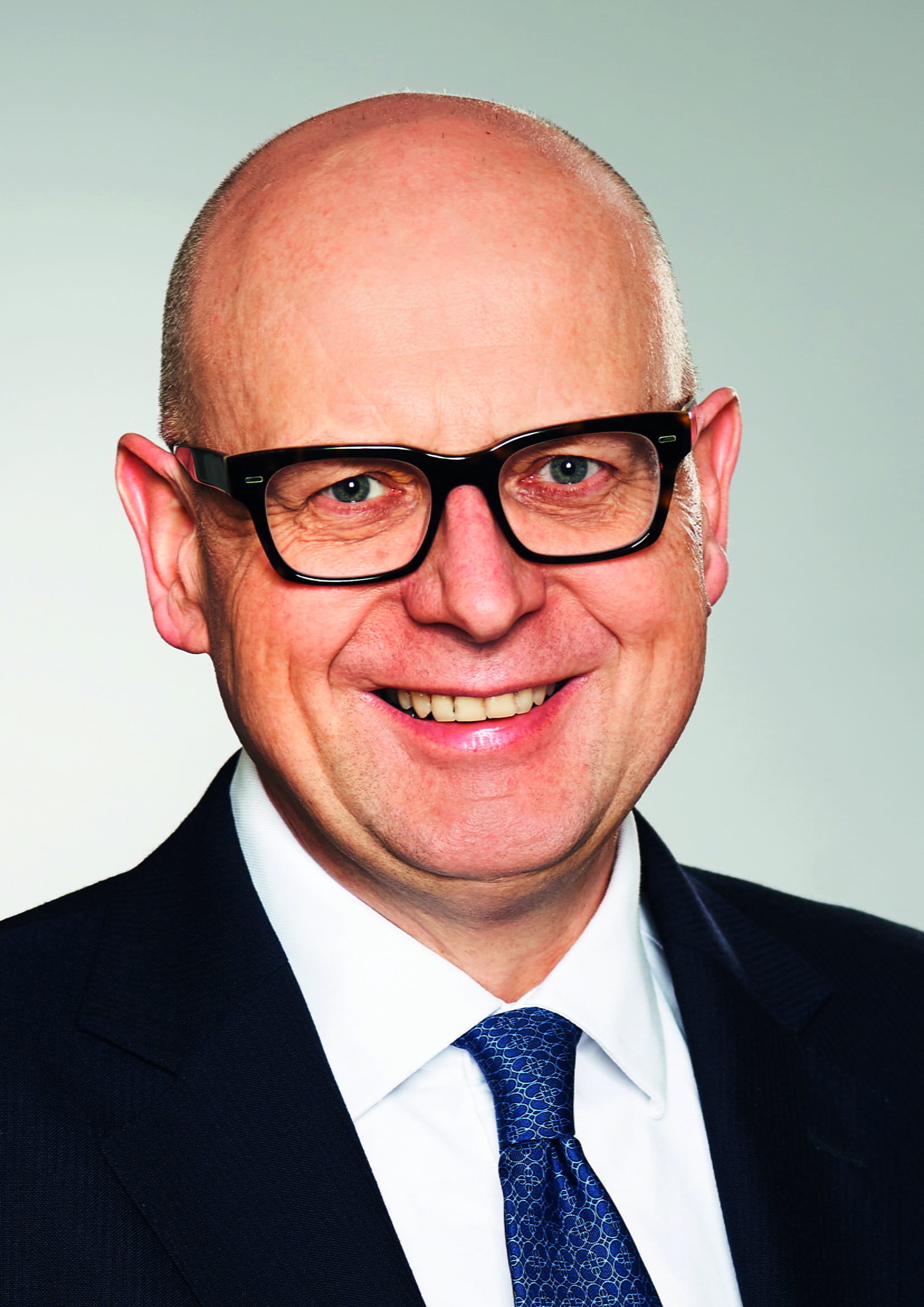 Head of Global Economics & Strategy
Frankfurt
Stefan Hofrichter is AllianzGI's Head of Economics & Strategy since 2011. Stefan and his team are responsible for advising clients, in-house investment professionals and sales colleagues on global economic trends and asset allocation.
Impact Investments – a new philosophy of investing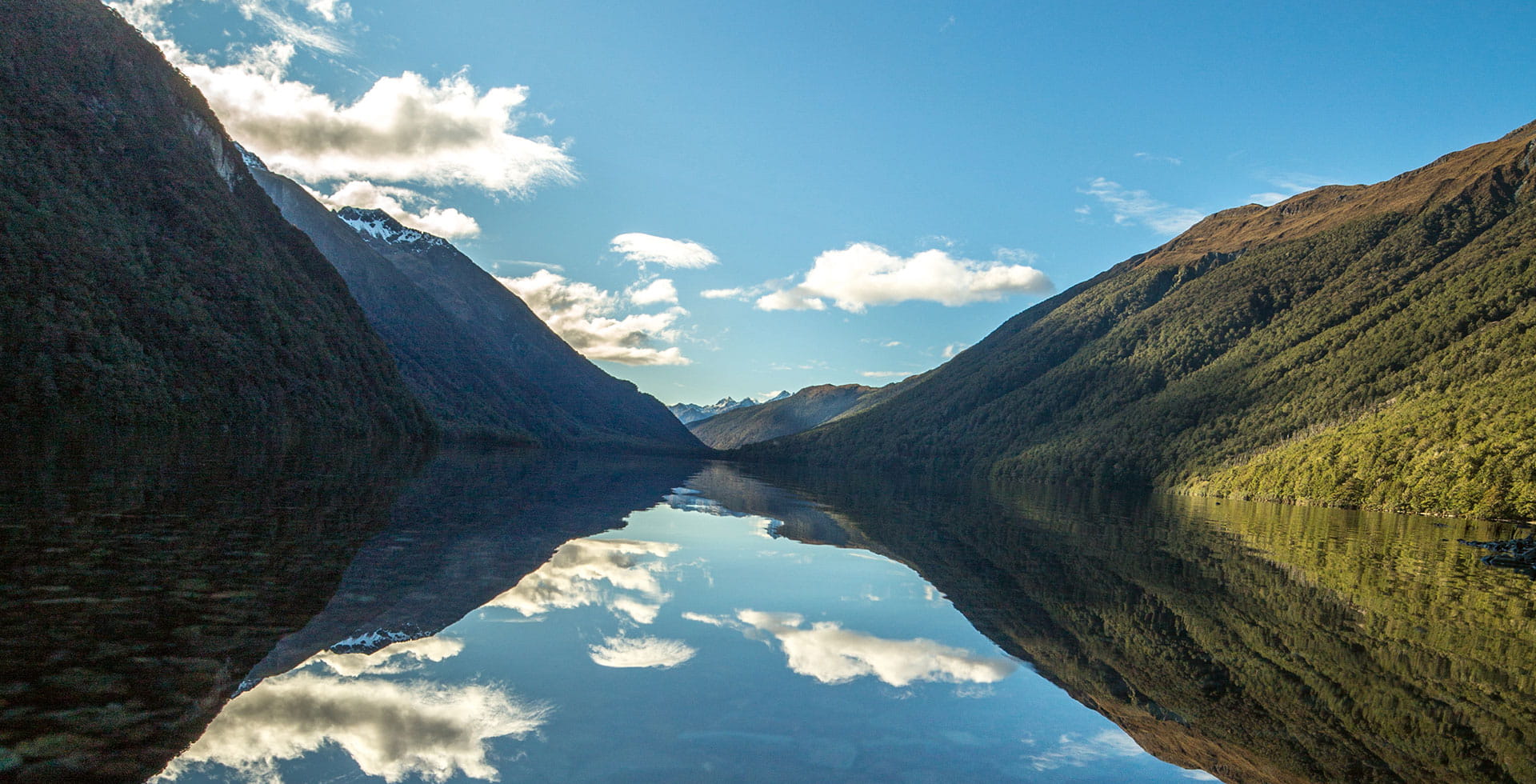 Summary
Investors are increasingly starting to realize that they have the power to make an impact by choosing where and how to invest their assets. Allocating capital with the intention to create impact allows investors to influence the way the economy works or how a company operates.
Investing involves risk. The value of an investment and the income from it will fluctuate and investors may not get back the principal invested. Investing in the water-related resource sector may be significantly affected by events relating to international political and economic developments, water conservation, the success of exploration projects, commodity prices and tax and other government regulations. Past performance is not indicative of future performance. This is a marketing communication. It is for informational purposes only. This document does not constitute investment advice or a recommendation to buy, sell or hold any security and shall not be deemed an offer to sell or a solicitation of an offer to buy any security.

The views and opinions expressed herein, which are subject to change without notice, are those of the issuer or its affiliated companies at the time of publication. Certain data used are derived from various sources believed to be reliable, but the accuracy or completeness of the data is not guaranteed and no liability is assumed for any direct or consequential losses arising from their use. The duplication, publication, extraction or transmission of the contents, irrespective of the form, is not permitted.

This material has not been reviewed by any regulatory authorities. In mainland China, it is used only as supporting material to the offshore investment products offered by commercial banks under the Qualified Domestic Institutional Investors scheme pursuant to applicable rules and regulations. This document does not constitute a public offer by virtue of Act Number 26.831 of the Argentine Republic and General Resolution No. 622/2013 of the NSC. This communication's sole purpose is to inform and does not under any circumstance constitute promotion or publicity of Allianz Global Investors products and/or services in Colombia or to Colombian residents pursuant to part 4 of Decree 2555 of 2010. This communication does not in any way aim to directly or indirectly initiate the purchase of a product or the provision of a service offered by Allianz Global Investors. Via reception of his document, each resident in Colombia acknowledges and accepts to have contacted Allianz Global Investors via their own initiative and that the communication under no circumstances does not arise from any promotional or marketing activities carried out by Allianz Global Investors. Colombian residents accept that accessing any type of social network page of Allianz Global Investors is done under their own responsibility and initiative and are aware that they may access specific information on the products and services of Allianz Global Investors. This communication is strictly private and confidential and may not be reproduced. This communication does not constitute a public offer of securities in Colombia pursuant to the public offer regulation set forth in Decree 2555 of 2010. This communication and the information provided herein should not be considered a solicitation or an offer by Allianz Global Investors or its affiliates to provide any financial products in Brazil, Panama, Peru, and Uruguay. In Australia, this material is presented by Allianz Global Investors Asia Pacific Limited ("AllianzGI AP") and is intended for the use of investment consultants and other institutional/professional investors only, and is not directed to the public or individual retail investors. AllianzGI AP is not licensed to provide financial services to retail clients in Australia. AllianzGI AP (Australian Registered Body Number 160 464 200) is exempt from the requirement to hold an Australian Foreign Financial Service License under the Corporations Act 2001 (Cth) pursuant to ASIC Class Order (CO 03/1103) with respect to the provision of financial services to wholesale clients only. AllianzGI AP is licensed and regulated by Hong Kong Securities and Futures Commission under Hong Kong laws, which differ from Australian laws.

This document is being distributed by the following Allianz Global Investors companies: Allianz Global Investors U.S. LLC, an investment adviser registered with the U.S. Securities and Exchange Commission; Allianz Global Investors Distributors LLC, distributor registered with FINRA, is affiliated with Allianz Global Investors U.S. LLC; Allianz Global Investors GmbH, an investment company in Germany, authorized by the German Bundesanstalt für Finanzdienstleistungsaufsicht (BaFin); Allianz Global Investors (Schweiz) AG; Allianz Global Investors Asia Pacific Ltd., licensed by the Hong Kong Securities and Futures Commission; Allianz Global Investors Singapore Ltd., regulated by the Monetary Authority of Singapore [Company Registration No. 199907169Z]; Allianz Global Investors Japan Co., Ltd., registered in Japan as a Financial Instruments Business Operator [Registered No. The Director of Kanto Local Finance Bureau (Financial Instruments Business Operator), No. 424, Member of Japan Investment Advisers Association and Investment Trust Association, Japan]; and Allianz Global Investors Taiwan Ltd., licensed by Financial Supervisory Commission in Taiwan.