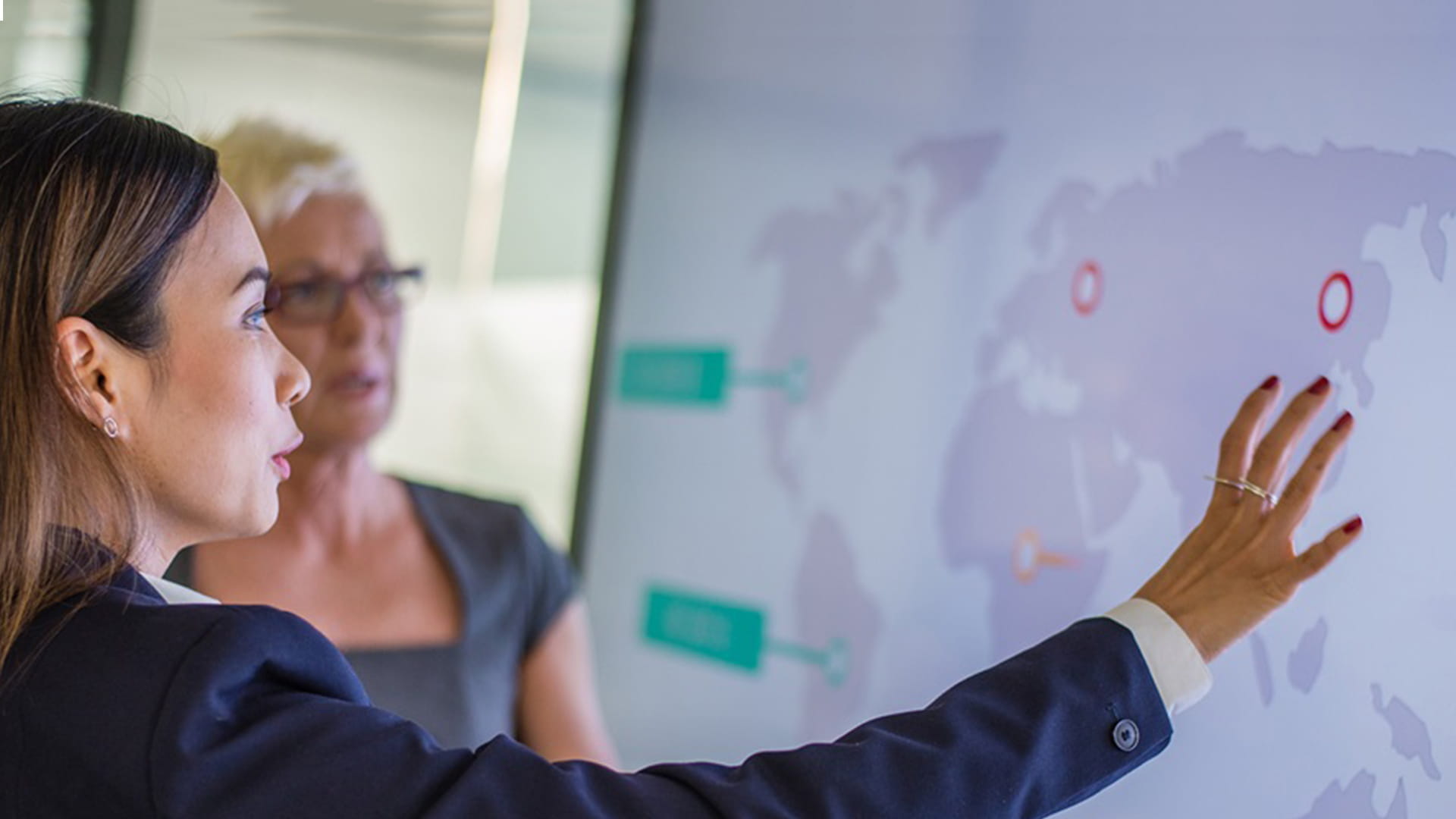 Summary
Trade is a growing concern for financial markets, with Brexit and a new US-induced trade war triggering a debate about how closely nations must be integrated to trade well together. Yet the reality is nuanced, so it helps to understand the seven types of economic integration and how they benefit the nations involved.
Key takeaways


International trade has become a key component of global GDP in the last 30 years, thanks in large part to falling tariffs – yet fears of a trade war are growing

To boost their economies, countries can enter into trade agreements that place them into one of seven categories of economic integration

TPP and NAFTA are two examples of trade pacts that lower or eliminate tariffs, but they are low on the economic-integration spectrum

The euro zone and the United States both offer the free movement of goods, capital, services and labour – but only the US can boast complete economic integration
Trade tensions are at the top of the global economic agenda, with financial markets showing concern that a major trade war among large countries could hit the global economy. Over the last 30 years, falling tariffs have helped increase international trade's share of global GDP, and rising tariffs could slow or even reverse this trend.

Yet the debate over trade – and whether closer trading ties must involve deeper economic integration – tends to overlook a more nuanced picture. To make this debate a more informed one, and with a nod to Hungarian economist Béla Balassa, here are the seven stages of global economic integration – from least to most integrated.


As tariffs fall, international trade grows
International trade's share of global GDP has generally increased in the last 30 years, thanks in large part to falling tariffs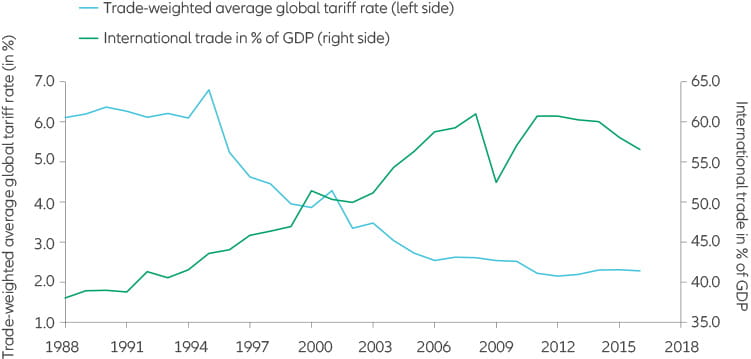 Source: Datastream. Data as at 20 June 2018.


Preferential trade area (PTA)
Example: Trans-Pacific Partnership (TPP)
Countries that sign this type of trade pact enjoy lower tariffs for certain products than the countries that don't. Some types of PTAs can lead to trade creation, which occurs when high-cost domestic production is replaced by low-cost imports from other members; this is beneficial for the living standards of all countries involved. Other types of PTAs can lead to trade diversion as trade moves from a more efficient supplier outside of the PTA towards a less efficient one within the PTA. Ideally, a PTA would result in more trade creation than diversion.
Free-trade area (FTA)
Example: North American Free Trade Agreement (NAFTA)
With an FTA, member countries agree to eliminate tariffs between themselves but maintain their own external tariffs on imports from the rest of the world. Because there are many kinds of external tariffs, FTAs generally develop elaborate "rules of origin". These rules are designed to prevent goods from being imported into the FTA member country with the lowest tariff and then trans-shipped to the country with higher tariffs.
Customs union
Example: European Union (EU)
When a group of countries agrees to form a customs union – eliminating tariffs between themselves and setting a common external tariff on imports from the rest of the world – their standard of living increases. Yet while a customs union avoids the problem of developing complicated rules of origin, it introduces the new problem of policy coordination: tariff rates across a range of import industries must be agreed upon by all members. This type of economic integration is a key question in negotiations about the UK's impending exit from the EU: will the UK remain in some kind of customs arrangement with the EU after Brexit occurs in 2019?
Common market
Example: European Single Market
A common market agreement establishes free trade in goods and services, sets common external tariffs among members and allows for the means of production to be easily moved between countries. The European Single Market agreement between the EU and (with certain limitations) Iceland, Lichtenstein, Norway and Switzerland guarantees the free movement of goods, capital, services and labour. (Turkey can only access the free movement of goods.) Because a common market increases competition and specialisation, it makes the allocation of resources more efficient within its member states. At the same time, common markets can have a downside. The Brexit vote in the UK shows how this level of integration can be perceived as a loss of national identity, spurring a desire to "take back control" of borders.
Economic union
Example: The EU's Common Agriculture Policy (CAP)
This is a type of common market that adds some fiscal-spending responsibilities. For example, the EU aims to support farmers, who supply a critical good (food) yet have unique economic challenges. The EU's CAP supports farmers via direct income payments and market interventions, and by addressing the specific needs of rural areas.
Economic and monetary union
Example: The European Monetary Union (the "euro zone")
In this type of agreement, members use a common currency and a central monetary authority to determine monetary policy. Goods, capital, services and labour can move freely across borders. The euro zone with its 19 members is a prime example. However, as the global financial crisis made clear, there are limitations to such an arrangement, including a small margin for error for economic policy. There is also a lack of flexibility that comes with using a common currency with a fixed exchange rate and shared interest rate in a region that has broad economic differences.
Complete economic integration
Example: The United States of America
In the US, which provides perhaps the best-known example of complete economic integration, each state has its own government that sets policies and laws for its own residents. At the same time, each state cedes control over certain areas – foreign policy, agricultural policy, major welfare programs and monetary policy – to the federal government. While there is some loss of independence with this arrangement, the primary economic benefit is that the free movement of goods, services, labour and capital is guaranteed.
Investing involves risk. The value of an investment and the income from it will fluctuate and investors may not get back the principal invested. Past performance is not indicative of future performance. This is a marketing communication. It is for informational purposes only. This document does not constitute investment advice or a recommendation to buy, sell or hold any security and shall not be deemed an offer to sell or a solicitation of an offer to buy any security. The views and opinions expressed herein, which are subject to change without notice, are those of the issuer or its affiliated companies at the time of publication. Certain data used are derived from various sources believed to be reliable, but the accuracy or completeness of the data is not guaranteed and no liability is assumed for any direct or consequential losses arising from their use. The duplication, publication, extraction or transmission of the contents, irrespective of the form, is not permitted. This material has not been reviewed by any regulatory authorities. In mainland China, it is used only as supporting material to the offshore investment products offered by commercial banks under the Qualified Domestic Institutional Investors scheme pursuant to applicable rules and regulations. This document is being distributed by the following Allianz Global Investors companies: Allianz Global Investors U.S. LLC, an investment adviser registered with the U.S. Securities and Exchange Commission; Allianz Global Investors GmbH, an investment company in Germany, authorized by the German Bundesanstalt für Finanzdienstleistungsaufsicht (BaFin); Allianz Global Investors Asia Pacific Ltd., licensed by the Hong Kong Securities and Futures Commission; Allianz Global Investors Singapore Ltd., regulated by the Monetary Authority of Singapore [Company Registration No. 199907169Z]; Allianz Global Investors Japan Co., Ltd., registered in Japan as a Financial Instruments Business Operator [Registered No. The Director of Kanto Local Finance Bureau (Financial Instruments Business Operator), No. 424, Member of Japan Investment Advisers Association and Investment Trust Association, Japan];and Allianz Global Investors Taiwan Ltd., licensed by Financial Supervisory Commission in Taiwan.

536295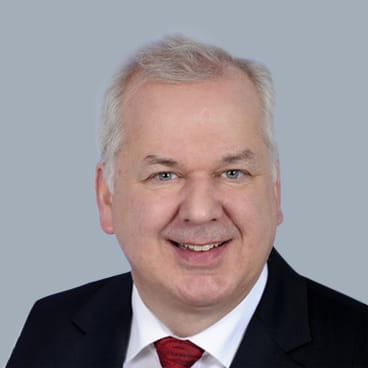 PhD, CEFA, Senior Investment Strategist
Frankfurt
Hans-Peter Rathjens is a senior investment strategiest with Allianz Global Investors and has been a member of the Global Economics & Strategy team since 2011. Mr Rathjens has a PhD in economics from Hamburg University and is a CEFA charterholder. He is also a lecturer on modern portfolio theory at DVFA.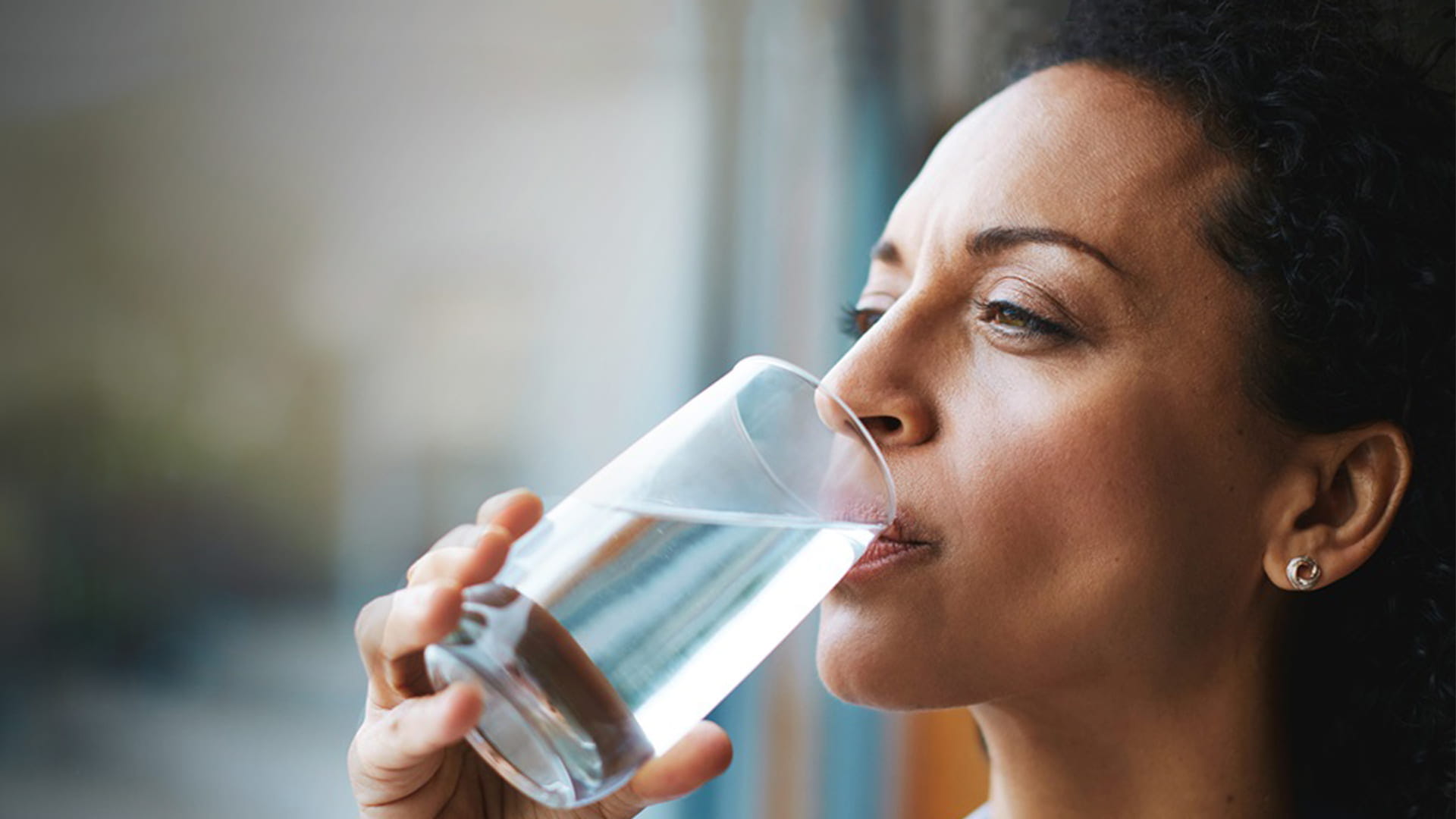 Summary
The exceptionally hot summer afflicting large parts of the planet has highlighted the precariousness of a finite resource – clean, consumable water – that we too often take for granted. By helping to bridge the gap between water supply and demand, investors can help address a critical structural problem while adding growth potential to their portfolios.
Key takeaways


After decades of warnings, many of the world's most critical investments in water infrastructure and technology still haven't been made
The structural imbalance between water supply and demand – and the pressure to close the gap – make water particularly attractive for investors
Water can be a defensive investment theme with prospects for high growth – a helpful combination under today's uncertain market conditions