Episode 25:

How Sustainability will reshape the investment landscape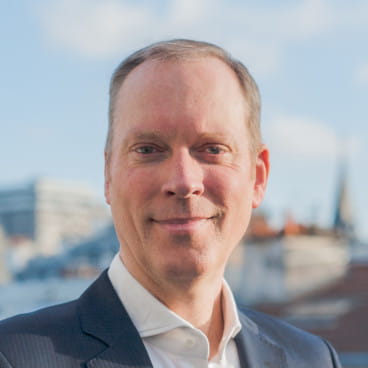 Managing Director, Global Head Sustainable & Impact Investing
Listen to Global Head of Sustainable and Impact Investing Matt Christensen discuss how the growing interest in Sustainability will reshape the investment landscape in surprising ways: From alignment of personal and investment views, to new ways to measuring impact, to technological innovation, and corporate disruption. Also: Matt will be a guest at our Sustainability Day event on May 12. You're invited! Register here.
Show notes
The Investment Intelligence Podcast: How Sustainability will reshape the investment landscape
Host: J.P. Vicente, Head of US Marketing & Client Engagement at Allianz Global Investors
Featured guest: Matt Christensen, Head of Sustainable & Impact Investing at Allianz Global Investors
Notes, quotes and references:
J.P talks with Matt Christensen about the many ways that sustainability is reshaping the investment landscape, from the increasing alignment of personal and investment views and new ways of measuring impact, to technological innovation and corporate disruption. Matt will be a guest at our Sustainability Day event on May 12. Listeners can register for the virtual event by clicking here.
Some key thoughts and topics from this episode:
What is prompting investors to allocate their investments more sustainably?
"With a phone at our fingertips, with all sorts of information available, we get a better sense of, 'Is a company doing the right thing?' Because if they're not, it gets in the press or our social media channels so quickly. Then, of course, regulation has now finally started to move in this direction. And, we cannot underestimate how much younger generations think of this as normal as opposed to an add-on. They look to live sustainability in the way they choose to eat, to travel, whether they stay at an AirBnB or whether they stay in a hotel, or whether they're going to actually think about renting or owning."
How should investors think about sustainability? What framework should they consider?
"For a typical investor … are there areas in the investment universe where you not want to have exposure? Call that Step One. Step Two is how do we minimize some of the risks that we face that might not have been captured as well in the past, but can be done now with the tools at our disposal? Third is the whole idea of moving towards more of a positive approach—an impact-oriented approach… And finally, you can get into thinking about, how do we start to talk to companies? And that gets into engagement."
What is climate risk in the context of investment portfolios, and are people measuring it properly?
"Right now, the area of measurement tends to be around a carbon footprint. But we're moving towards, over time, a 'temperature' of your portfolio… The idea is that an investor in the future could say, 'This is my risk/return expectation when I think about investing my capital with this fund, and here is the 'temperature'… That sounds quite cool, but it's still immature… What you're going to see eventually are models that try to do weighted average cost of capital, discounted cashflow analysis that brings in this climate metric in a way that makes it more available for our clients and companies."
What do you say to skeptics who believe sustainability and profits are incompatible?
"We have so much proof now that if you take a longer-time series, a focus on sustainability is actually going to be neutral or help to outperform, whether you look at equities or fixed income… I'd say that the reason we have so much money going into this field right now is because a lot of investors have actually already … decided that this actually is an area that leads to better performance or better risk/return performance. The next question that's going to hit us really hard over the next few years is, 'Please show us positive examples of impact, or what changed when you went in this direction'."
How should investors who care about the social elements of ESG, such as fostering diversity in corporate boardrooms and the workforce as a whole, think about reflecting those views in their portfolios?
"First, public companies now all show you board composition diversity in terms of skills, backgrounds, ethnicities and gender. We often find that diversity is rich at the starting point of the career path in corporations, and it's decently done at the board level, but it narrows considerably as you move to the c-suite, to your senior management pools of human capital… The second area to look at is pay scale… If you want to get at that, you might look at how people are paid between, let's say, the CEO level, or the c-suite, versus the median salary of the employee base. And, you can very quickly, if you get that information, see some things that are quite out of whack at times."
What are your views about "greenwashing," a topic you wrote about recently in Barron's?
"Although there are questions around how to best measure impact and the best tools, it certainly is not fair to say that all sustainable investing does not have impact… Right now … it's a great time to be doing sustainable investing, because we can show the proof of impact."
The full episode has even more details on the topics above. Check it out.
Cultural recommendations:
J.P. raves about "Hemingway," the new Ken Burns documentary on PBS about one of America's most popular writers of yesteryear.
Matt recommends three streaming shows: "Lupin," a French series about a gentleman thief inspired by the adventures of Arsène Lupin, "The Crown," a historical drama series about the British royal family, and "Cobra Kai," continuing the Karate Kid tale decades after the original's epic final fight.
Creativity and editing: Peter Lennox.
Production: Mark Egan.
1615854