2019 Outlook: active selection is essential
In the coming year, we expect to see lower correlations, higher volatility and lower returns, particularly for equities. Our 2019 outlook explores why active investing is likely to be essential.
Learn more about the investment themes at the core of our 2019 outlook: a "tech cold war" between China and the US; central banks' move toward quantitative tightening; the increasing importance of ESG investing; and the threat of rising economic inequality.
A new "tech cold war" could disrupt global supply chains
During 2018, the Trump administration identified China as a strategic technological threat. This has led to fears in China that American technology may ultimately become unavailable, which would be a strategic threat to China's own economic security. This may prompt both the US and China to build their own discrete tech ecosystems. The result could be a "tech cold war" that lowers profit margins, inhibits innovation and disrupts the global supply chains of tech companies in Asia and the US.

Takeaways for investors
Consumer sectors and large parts of the tech industry could be hurt by a tech cold war; this could lead to higher prices for consumers and less innovation globally as fewer high-tech developments are shared.
However, more high-tech assembly and manufacturing work could return to the US, which could be somewhat positive for supply chains for the consumer discretionary, health care and information technology sectors.
Artificial intelligence, big data and the internet of things will still be strong long-term investment themes on both sides of the tech cold war.
Quantitative tightening could mean less growth and higher volatility
Central banks have finally started easing back on the stimulus they pumped into the global economy in the wake of the financial crisis. In the US, the Fed is raising interest rates and beginning "quantitative tightening" (QT) by reducing its bond holdings. As this approach is replicated around the world, we expect to see higher volatility.

Following President Donald Trump's success at turbocharging an already hot US economy, more governments are looking to pump fiscal stimulus into their economies. That means more sovereign bonds could be issued in markets where central banks are already trying to unload their holdings. This will likely raise rates for borrowers and hurt the more indebted parts of the global economy, particularly emerging markets. If this happens, expect slower growth and a higher prospect of defaults.

Takeaways for investors
Higher US interest rates would make dollar-denominated debts more expensive to service, which could spark an outflow of capital from emerging markets.
Just as quantitative easing boosted many asset classes, creating an environment conducive to risk-taking, QT may expose overstretched valuations and make markets more volatile.
Higher volatility may create opportunities for those investors who can navigate the new environment. Assets are more likely to be over or underpriced, and active managers can focus on companies, sectors and geographies with stronger overall outlooks in these conditions. Without volatility, opportunities like these are scarcer.
ESG is becoming mainstream, as investors recognise the potential for managing risk and driving performance
Environmental, social and governance (ESG) factors have become a primary concern for investors. Companies that manage their ESG profiles well – focusing on areas such as strong governance, climate change and board diversity – are likely to strengthen their positions in the coming years. Investors who examine these ESG factors can gain an additional layer of insight for identifying opportunities in a marketplace that increasingly demands selectivity.

Yet the rising interest in ESG has coincided with an increase in categorisation to address different philosophical positions and investor requirements, so it is important to be clear about what the different labels mean.

"Integrated ESG" – which embeds the consideration of ESG factors into an existing investment process – is gaining traction. We take a rigorous approach to ESG integration: rather than relying entirely on external ESG ratings and third-party methodologies, our investment professionals question potential holdings with low ESG ratings and contribute to a firm-wide debate. Because our portfolio managers can own "risky" ESG companies, we are in a unique position to engage with those firms to drive changes that seek to reduce risk and enhance performance potential over the long term.

Other investors are looking to direct capital in such a way as to achieve extra-financial as well as attractive financial returns. This could be through negative screening or – increasingly – through positive screening that helps to create a broader social impact.

ESG in its different guises will be a significant investment theme in 2019 and beyond. To establish ESG investing as a mainstream activity, asset managers will need to be clear on labelling and how they can address clients' differing needs and expectations.

Takeaways for investors
To be more selective, investors will need to take a greater range of risk factors – including ESG considerations – into account; understanding a company's fundamentals at a deep level is critical.
At Allianz Global Investors, we expect to engage more with our clients on ESG issues. It is part of what separates active from passive investing. Fully incorporating ESG factors into investment decisions adds value that is difficult to replicate in index form.


ESG investing is on the rise
US total assets (1995-2018)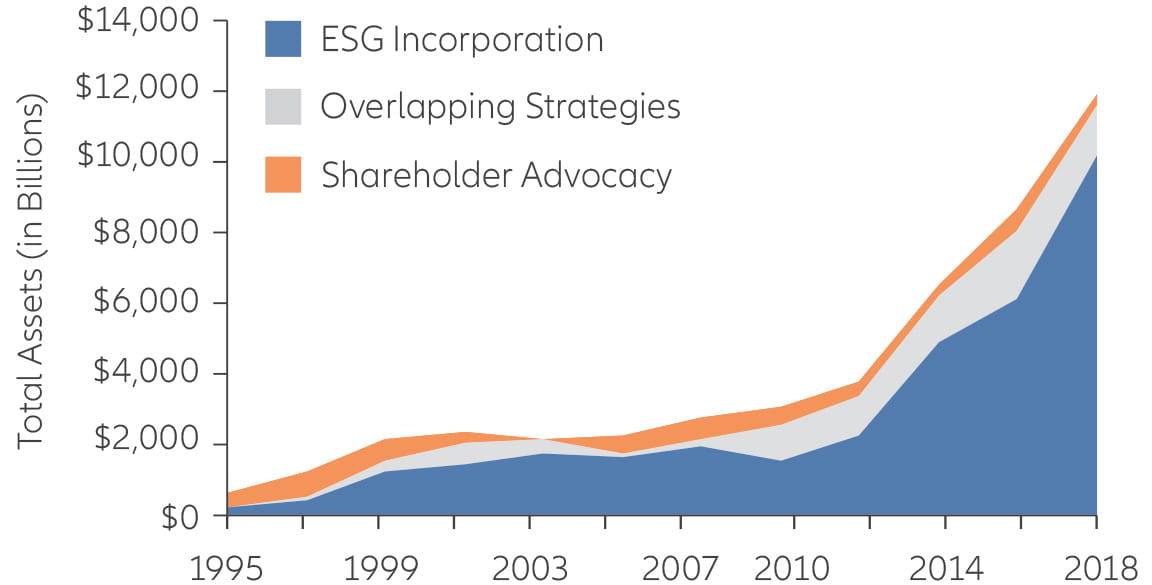 Source: US SIF Foundation. This chart is illustrative in nature and should not be considered a recommendation to purchase a specific security, strategy or product.
Rising inequality is hurting economies and transforming politics
The economic inequality that has been growing in societies around the world is a significant factor in driving anti-globalisation sentiment, and it looks like the trend could get even worse. Inequality is a political issue that has helped spur the rise of nationalist and populist parties. It can also drag down growth, destabilise social systems and stress government budgets.

Rising inequality is bringing to the ballot box more voters who are disillusioned with the status quo, which could result in new policy proposals that further increase market volatility. Millennials are also set to become an increasingly powerful political force in the next decade – and as a demographic group they are more likely to demand fairness, transparency and an understanding of how companies contribute to the greater good.

Takeaways for investors
Corporations have the ability to address economic inequality by focusing less on profit maximisation and labour arbitrage – and more on fair pay and worker training. Investors can encourage management teams to close the gap.
Investors can choose to work with asset managers who direct capital into initiatives that are likely to promote future growth in a more sustainable and equitable way.
Some or all the securities identified and described may represent securities purchased in client accounts. The reader should not assume that an investment in the securities identified was or will be profitable. The securities or companies identified do not represent all of the securities purchased, sold, or recommended for advisory clients. Actual holdings will vary for each client. FANG is an acronym widely used on Wall Street and among many investors; it stands for four high performing large cap technology companies – Facebook, Amazon, Netflix and Google (now Alphabet) – that are also household names. BAT is a similarly widely used acronym for three large cap tech companies in China: Baidu, Alibaba and Tencent.

Investing involves risk. There is no guarantee that active management will outperform the broader market. The value of an investment and the income from it will fluctuate and investors may not get back the principal invested. Past performance is not indicative of future performance. This is a marketing communication. It is for informational purposes only. This document does not constitute investment advice or a recommendation to buy, sell or hold any security and shall not be deemed an offer to sell or a solicitation of an offer to buy any security.

The views and opinions expressed herein, which are subject to change without notice, are those of the issuer or its affiliated companies at the time of publication. Certain data used are derived from various sources believed to be reliable, but the accuracy or completeness of the data is not guaranteed and no liability is assumed for any direct or consequential losses arising from their use. The duplication, publication, extraction or transmission of the contents, irrespective of the form, is not permitted.

This material has not been reviewed by any regulatory authorities. In mainland China, it is used only as supporting material to the offshore investment products offered by commercial banks under the Qualified Domestic Institutional Investors scheme pursuant to applicable rules and regulations.

This document is being distributed by the following Allianz Global Investors companies: Allianz Global Investors U.S. LLC, an investment adviser registered with the U.S. Securities and Exchange Commission; Allianz Global Investors Distributors LLC, distributor registered with FINRA, is affiliated with Allianz Global Investors U.S. LLC; Allianz Global Investors GmbH, an investment company in Germany, authorized by the German Bundesanstalt für Finanzdienstleistungsaufsicht (BaFin); Allianz Global Investors (Schweiz) AG, licensed by FINMA (www.finma.ch) for distribution and by OAKBV (Oberaufsichtskommission berufliche Vorsorge) for asset management related to occupational pensions in Switzerland; Allianz Global Investors Asia Pacific Ltd., licensed by the Hong Kong Securities and Futures Commission; Allianz Global Investors Singapore Ltd., regulated by the Monetary Authority of Singapore [Company Registration No. 199907169Z]; Allianz Global Investors Japan Co., Ltd., registered in Japan as a Financial Instruments Business Operator [Registered No. The Director of Kanto Local Finance Bureau (Financial Instruments Business Operator), No. 424, Member of Japan Investment Advisers Association and Investment Trust Association, Japan]; and Allianz Global Investors Taiwan Ltd., licensed by Financial Supervisory Commission in Taiwan.

678043