Active is: Finding new sources of income
Adjusting to a lower-for-longer rate environment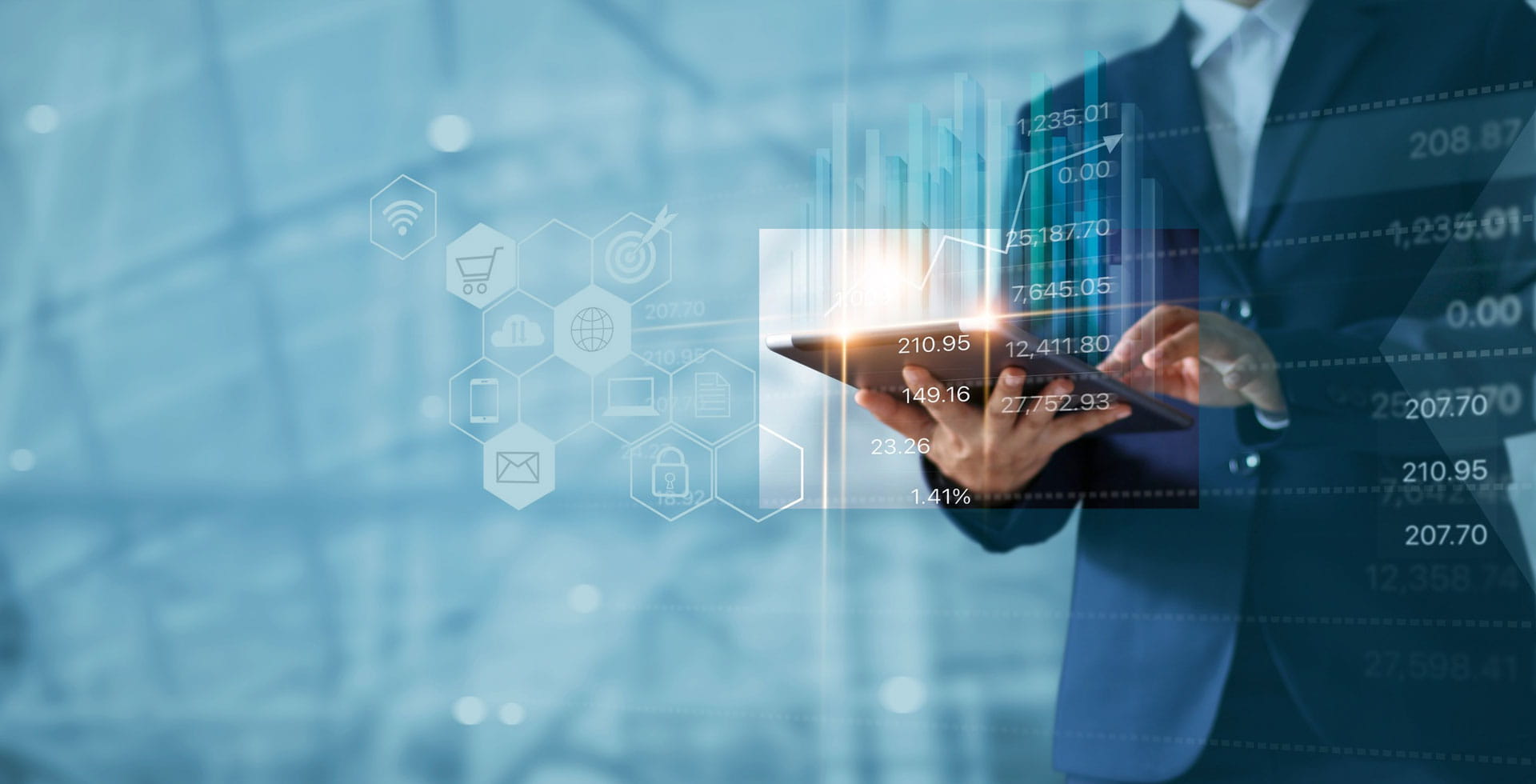 Summary
A low-growth, low-interest rate environment is firmly established globally, and a combination of external forces look set to inhibit any improvement for years to come. This makes investors' hunt for income more complicated than ever.
Key takeaways


Global growth is low and any improvement this year will be precarious; growth is set to slow further in the next few years.
Deflationary forces that emerged during the financial crisis evidently remain at work, and inflation expectations remain doggedly low.
Central banks are having to revise their strategy: it is no longer the time to raise interest rates.
Rates are set to remain lower for longer, with demographic and economic factors – including an ageing population and reduced productivity – adding to downward pressure on rates
Investors are seeing a new paradigm of persistently low interest rates, and will have to adapt to this environment in which interest rates are set to remain low for a long time. Rarely in recent times have short-term interest rates in developed countries been so firmly grounded, paving the way for even lower rates along the whole of the curve, over a longer period than had been expected just a few months ago.

The reasons for this are first of all cyclical. Central banks, which were continuing or just starting to normalise their monetary policy, were caught off guard by the slowdown in world growth.

According to the latest International Monetary Fund (IMF) forecasts released at the start of April, 70% of the global economy is likely to slow in 2019. World growth will probably reach 3.5% this year and 3.6% in 2020, compared with 3.8% in 2018. This slowdown will be even more pronounced in developed countries, where growth looks set to drop from 2.3% in 2018 to 2% in 2019 and 1.7% in 2020.

The US will probably lose momentum with growth of 2.3% this year and 1.9% in 2020, following the gradual withdrawal of fiscal stimulus. The adjustment is even more drastic in the euro zone with a forecast of 1.3% for 2019, against 1.6% previously.

Much of the blame for the euro zone slowing lies with Germany, where growth has slowed sharply and is unlikely to exceed 0.8% in 2019 due to slower external demand and difficulties facing the automobile industry. Italy also represents a drag on growth, where a rate of 0.1% is predicted. While China is slowing too, its growth rate significantly outpaces that of other markets. Growth is expected to be 6.3% in 2019, compared with 6.6% in 2018.


Any improvement in growth will be fragile
Admittedly, the IMF expects an improvement in growth in the second half of the year on account of China's economic stimulus programme, renewed confidence on financial markets and a gradual stabilisation of crisis-hit emerging countries such as Argentina and Turkey.

However, an unprecedented risk environment will continue to weigh on – and could derail – this potential recovery. The uncertainty surrounding Brexit persists, while trade tensions between the US and its main trade partners – especially China and Europe – are hindering international trade.

According to the World Trade Organization (WTO), global trade is likely to grow by 2.6% in 2019, down from 3% in 2018. In the euro zone, Italy is a potential time bomb, with public debt at 130% of GDP, while impending discussions between Brussels and the populist government could add to market volatility.

Inflation expectations remain doggedly low, and the link between a pick-up in economic activity and inflation would appear to be broken. In Europe, inflation expectations fell to a post-2016 low in May, at just 1.32% – close to the all-time low and some way short of the European Central Bank's (ECB) medium-term target of just under 2%.

In the US, the core Personal Consumption Expenditures (PCE) index of consumer prices excluding energy and food – the US Federal Reserve's favourite measure of inflation – remains steadfastly below the 2% mark, coming in at 1.6% in April. This is despite wage growth and the lowest rate of unemployment since 1969. The deflationary forces that emerged during the financial crisis evidently remain at work.

As a result, central banks have had to revise their strategy. In simple terms, it is no longer the time to raise interest rates.


Central banks will have to remain accommodative
In Europe, the uncertain economic outlook and lowering of inflation expectations mean the ECB will be forced to pursue its extremely accommodative monetary policy over the medium term, as ECB President Mario Draghi has made clear. Speaking at the June ECB forum in Sintra, he announced that the ECB stood ready for additional stimulus. This could include further cuts and renewed asset purchases.

At no point could the ECB have raised rates. It is caught in its own trap, not having known how or been able to normalise its monetary policy more boldly when macroeconomic conditions were more favourable than they are today. It is also paying the price for lagging behind the Fed: it launched its quantitative easing programme only in 2015, seven years after the Fed in 2008.

Monetary normalisation in the US, which has already seen nine rate increases, including four in 2018, has also been put on hold. The US Federal Reserve is now under constant pressure from markets and the White House. Having announced a pause early this year, Jerome Powell, the Fed Chairman, is engaged in a balancing act: the US economy – supported by household consumption – is still resilient, and the full employment target has been exceeded.

Nevertheless the June Federal Open Market Committee (FOMC) changed tone from its May statement, indicating that economic activity is "rising at a moderate rate," a downgrade from "solid." Mr Powell indicated that he was closely monitoring the impact of the tensions and stood ready to act appropriately if necessary, thus opening the door to a rate cut without explicitly mentioning it.


Demographic and economic factors will keep rates low
There are structural reasons why this period of low interest rates could become more settled over time.

Without getting into the argument about secular stagnation, as advanced by certain economists, potential growth in developed countries – ie, the growth rate that an economy can reach when it fully uses its production factors (labour and capital) without creating inflationary pressures, regardless of economic cycles – is now significantly lower than it was in previous decades.

Ageing populations, low investment levels and an erosion of productivity gains – despite the acceleration in technological progress – are exerting downward pressure on interest rates. Weaker growth restricts investment and ageing populations push up the savings rate. The drop in demand and rise in savings reduce the "neutral" level of interest rates, defined as one that neither stimulates nor limits economic activity.

Another point to consider is that the liquidity ratio – one of the key components of the Basel III banking regulation – requires banks to hold a certain percentage of high-quality liquid assets (HQLA) in reserve, in case of market unrest. As it is, these HQLA are mostly sovereign bonds. With supply limited, largely due to quantitative easing (QE), strong demand for collateral will continue to weigh on interest rates.

Potential growth is down, inflation expectations are low, and the equilibrium interest rate looks set to settle below previous levels on a lasting basis. This is true of the whole curve; with short-term interest rates so firmly entrenched in investors' minds, the whole of the yield curve structure is affected.

This is a fundamental change of perspective, and investors are seeing a new paradigm in which traditional sources of yield have dried up and yields are even negative in some cases. Bonds with negative yields make up about a third of the total outstanding bonds in the developed world, and more than a third in the euro zone, with Germany and France leading the way. Whereas the level fell in the previous two years, after peaking at $12.2 trillion in 2016, the Bloomberg Barclays Global Aggregate Negative-Yielding Debt Index has increased by more than $3 trillion over the past six months, reaching $12.9 trillion at the end of June.

As a result, investors' hunt for income is more complicated than ever.

Central bank policy rates
From the start of Fed data (1971)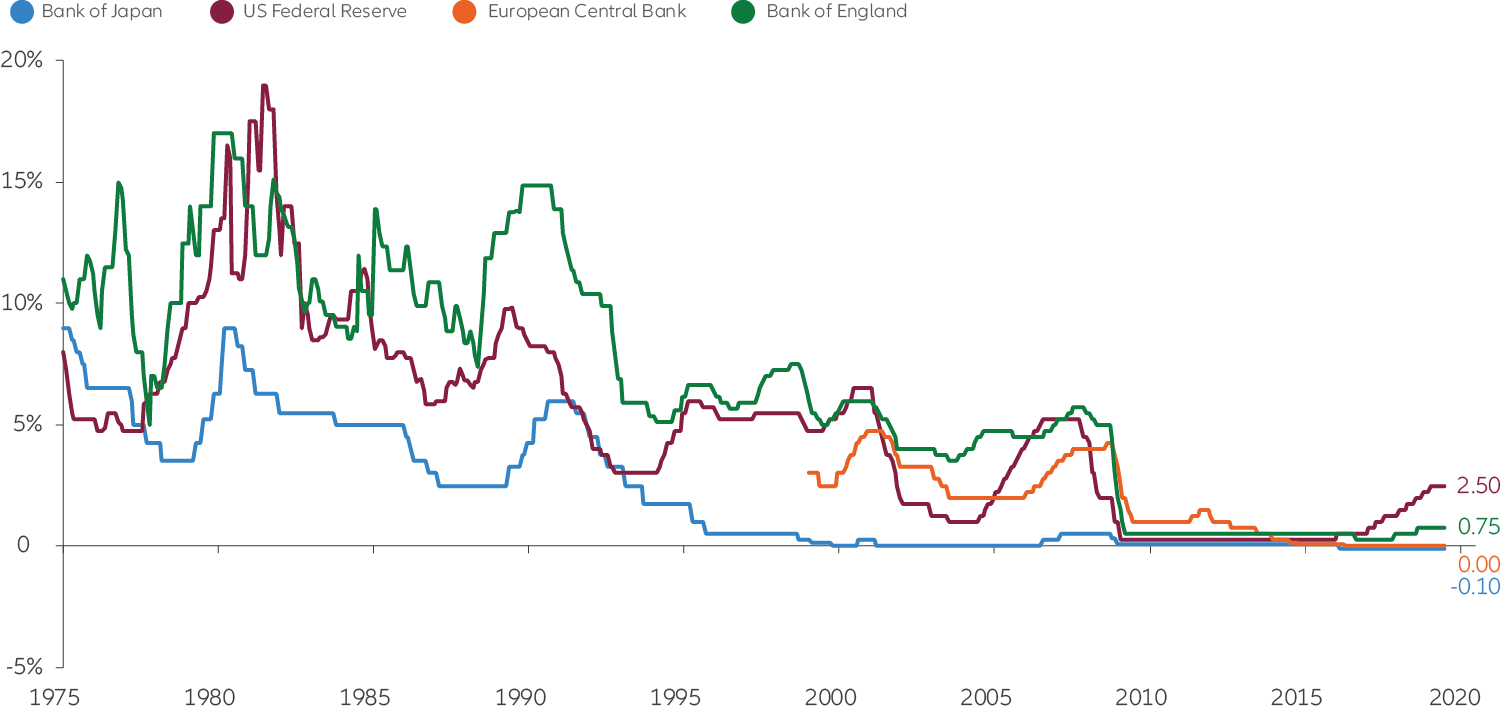 Source: Bloomberg, June 2019


887264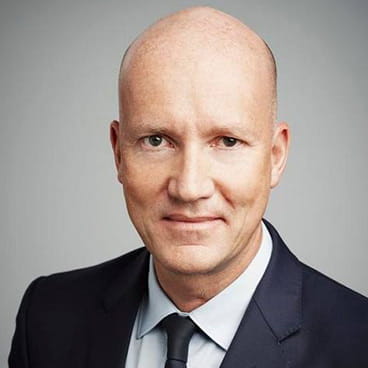 Global Head of Fixed Income
Franck Dixmier is Global Head of Fixed Income and a member of the Investment Executive Committee at Allianz Global Investors.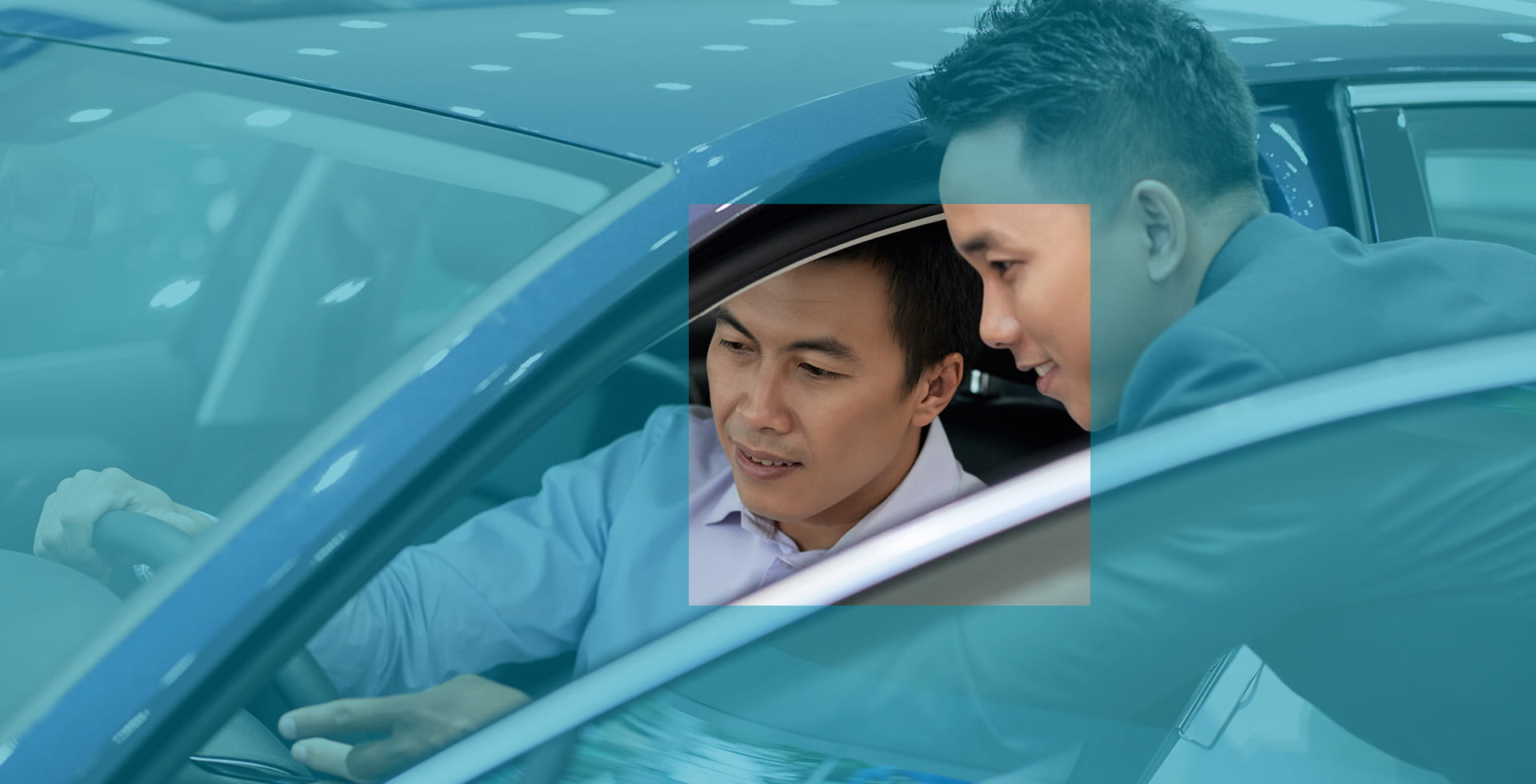 Summary
Sales of domestic-brand sedans and SUVs rose in 3Q 2018 year-to-year, while those of joint-venture (JV) premium brands fell by the same percentage. Domestic-brand dealers generally reported flat levels of discounts/promotions vs. last year, while JV premium–brand dealers cited higher levels of discounts/promotions.
Investing involves risk. The value of an investment and the income from it will fluctuate and investors may not get back the principal invested. Investing in the water-related resource sector may be significantly affected by events relating to international political and economic developments, water conservation, the success of exploration projects, commodity prices and tax and other government regulations. Past performance is not indicative of future performance. This is a marketing communication. It is for informational purposes only. This document does not constitute investment advice or a recommendation to buy, sell or hold any security and shall not be deemed an offer to sell or a solicitation of an offer to buy any security.

The views and opinions expressed herein, which are subject to change without notice, are those of the issuer or its affiliated companies at the time of publication. Certain data used are derived from various sources believed to be reliable, but the accuracy or completeness of the data is not guaranteed and no liability is assumed for any direct or consequential losses arising from their use. The duplication, publication, extraction or transmission of the contents, irrespective of the form, is not permitted.

This material has not been reviewed by any regulatory authorities. In mainland China, it is used only as supporting material to the offshore investment products offered by commercial banks under the Qualified Domestic Institutional Investors scheme pursuant to applicable rules and regulations. This document does not constitute a public offer by virtue of Act Number 26.831 of the Argentine Republic and General Resolution No. 622/2013 of the NSC. This communication's sole purpose is to inform and does not under any circumstance constitute promotion or publicity of Allianz Global Investors products and/or services in Colombia or to Colombian residents pursuant to part 4 of Decree 2555 of 2010. This communication does not in any way aim to directly or indirectly initiate the purchase of a product or the provision of a service offered by Allianz Global Investors. Via reception of his document, each resident in Colombia acknowledges and accepts to have contacted Allianz Global Investors via their own initiative and that the communication under no circumstances does not arise from any promotional or marketing activities carried out by Allianz Global Investors. Colombian residents accept that accessing any type of social network page of Allianz Global Investors is done under their own responsibility and initiative and are aware that they may access specific information on the products and services of Allianz Global Investors. This communication is strictly private and confidential and may not be reproduced. This communication does not constitute a public offer of securities in Colombia pursuant to the public offer regulation set forth in Decree 2555 of 2010. This communication and the information provided herein should not be considered a solicitation or an offer by Allianz Global Investors or its affiliates to provide any financial products in Brazil, Panama, Peru, and Uruguay. In Australia, this material is presented by Allianz Global Investors Asia Pacific Limited ("AllianzGI AP") and is intended for the use of investment consultants and other institutional/professional investors only, and is not directed to the public or individual retail investors. AllianzGI AP is not licensed to provide financial services to retail clients in Australia. AllianzGI AP (Australian Registered Body Number 160 464 200) is exempt from the requirement to hold an Australian Foreign Financial Service License under the Corporations Act 2001 (Cth) pursuant to ASIC Class Order (CO 03/1103) with respect to the provision of financial services to wholesale clients only. AllianzGI AP is licensed and regulated by Hong Kong Securities and Futures Commission under Hong Kong laws, which differ from Australian laws.

This document is being distributed by the following Allianz Global Investors companies: Allianz Global Investors U.S. LLC, an investment adviser registered with the U.S. Securities and Exchange Commission; Allianz Global Investors Distributors LLC, distributor registered with FINRA, is affiliated with Allianz Global Investors U.S. LLC; Allianz Global Investors GmbH, an investment company in Germany, authorized by the German Bundesanstalt für Finanzdienstleistungsaufsicht (BaFin); Allianz Global Investors (Schweiz) AG; Allianz Global Investors Asia Pacific Ltd., licensed by the Hong Kong Securities and Futures Commission; Allianz Global Investors Singapore Ltd., regulated by the Monetary Authority of Singapore [Company Registration No. 199907169Z]; Allianz Global Investors Japan Co., Ltd., registered in Japan as a Financial Instruments Business Operator [Registered No. The Director of Kanto Local Finance Bureau (Financial Instruments Business Operator), No. 424, Member of Japan Investment Advisers Association and Investment Trust Association, Japan]; and Allianz Global Investors Taiwan Ltd., licensed by Financial Supervisory Commission in Taiwan.