Active is: Finding new sources of income
Do higher wages for workers mean lower returns for investors?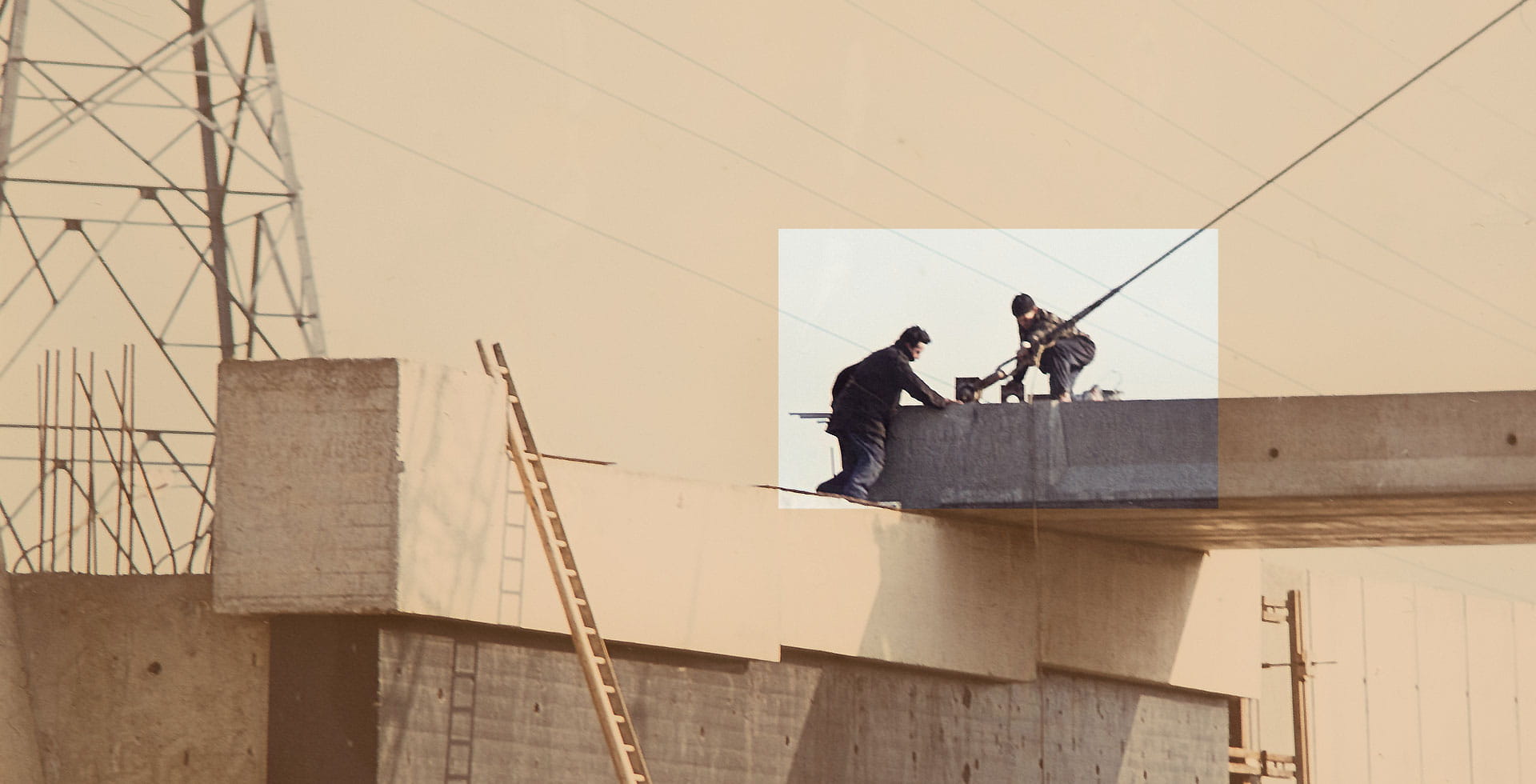 Summary
Changes to the nature of workforces in the developed world have seen the proportion of Gross Domestic Product (GDP) accounted for by wages fall for several decades, boosting investment returns. However, these trends could be set to reverse, with negative consequences for investors in the years to come.
Key takeaways


The past 50 years have been a golden age for equity investors, and bonds have also provided attractive returns
One of the reasons for the strong investment returns over recent decades has been a fall in the labour share of GDP
The labour share of GDP now looks to be rising, with likely negative consequences for investment returns over the years to come
In the expected lower-return environment, we believe shorter-maturity corporate bonds, dividend-yielding equities, and stocks exposed to disruptive technology are best placed to prosper
Investment returns are not just driven by relatively short-term considerations, such as company fundamentals, investor sentiment or geopolitical developments: secular macroeconomic trends also play an important role over the long term.

One of these is the development of the labour share of GDP – the portion of national income allocated to wages. It is related to the capital or profit share (the proportion of income going to capital owners) as capital share and labour share of GDP are often assumed to add up to 100%. It is worth examining how changes in the global workforce and other macroeconomic factors could impact investors over the years to come.


A falling labour share has boosted stock-market returns for several decades…
The labour share has fallen in the developed world in recent decades. Immediately after World War II, wages accounted for almost two-thirds of GDP in the US, and as recently as 1980, the figure was over 70% in Japan. But the figures for most developed countries today stand at just over 55%.

These differences might not sound huge, but they have big implications for investors as the higher share of GDP going to owners of capital rather than earnings has significantly boosted asset returns. For example, the increase of capital share in the US – from about 36% of GDP in 1969 to 44% today – has added about 40 basis points (bps) to average annualised US equity returns. And this doesn't even take into account the higher dividends made possible by higher earnings or the compounding effect of increased returns.

So why have wages been falling over this period?

One hypothesis suggests greater international trade and increased globalisation has reduced the ability of workers in each country to negotiate higher wages. Another suggests technological innovation has held back wage growth: there's strong evidence that replacing certain jobs with computers has reduced demand for low-skilled workers and limited wage costs.

There's also a hypothesis that the relative supply of workers and capital influences the labour share of GDP. Dependency ratios declined dramatically in the second half of the 20th century as people started having fewer children, and the number of children relative to working-age people fell. Similarly, the availability of workers in the developed world has increased in recent decades as labour participation rates have risen, with more women in the workforce the main driver of this trend.


…but the tide looks to be turning
Now, things look to be changing. In the developed world, the number of pensioners is rising faster than the workforce, while labour participation rates are starting to fall.

Dependency ratios and labour force participation rates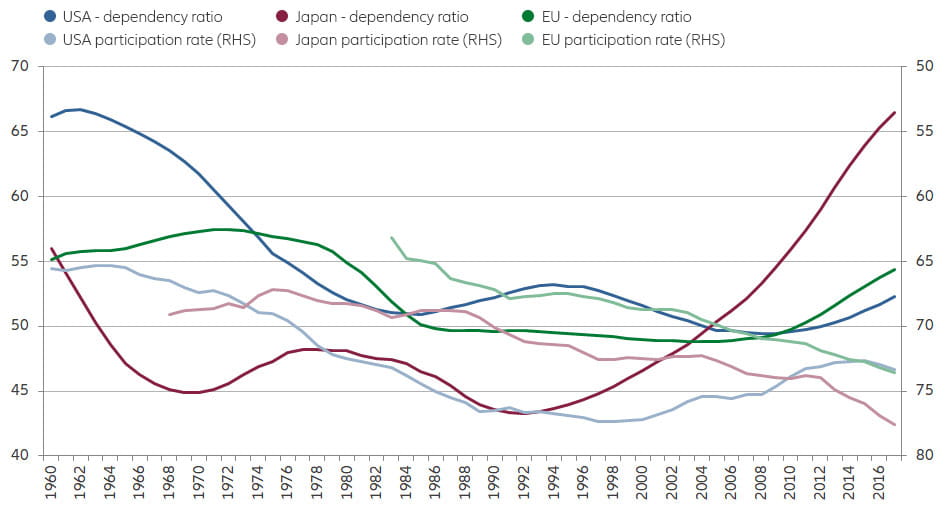 Source: World Bank and OECD, April 2019


Meanwhile, as awareness of income inequality has increased, populist politicians are proposing more aggressive taxes to reallocate wealth, and workers in economies with historically low unemployment are likely to demand a bigger share of the pie.

All this may sound academic, but it has some important implications for potential future investment returns.


An end to the golden age for equity investors
The past few decades have been a golden age for equity holders. Growth has been strong overall, shares are now trading at price-to-earnings (PE) multiples 40 to 50% higher than in the early 1970s (adding 70–80bps to average annualised total returns), corporate tax rates are low and the capital share of GDP is near its historical high.

But we're unlikely to see such high economic growth in the coming decades. It's hard to envisage valuations continuing to rise in a slower-growth environment, further reductions in corporate tax rates are unlikely to be viable politically, and the labour share of GDP may be bottoming out or even rising. This implies that equity returns will face headwinds, or at the very least weaker tailwinds than in the past.

Over the past 50 years, an investment in the S&P 500 would have earned almost 10% a year in nominal terms, and more than 5.5% after inflation. If we assume that future economic growth is likely to be closer to 2% than the 3% average we've seen over the past 50 years, that valuation multiples don't change much, and that the labour share of GDP remains constant, then we are likely to lose 2 percentage points or more from our real returns in the coming years.

What's more, if inflation remains low, even nominal returns are likely to be considerably lower than in the recent past. A 3% real return and 5% nominal return for equities suggests prices will more or less increase with inflation, while real returns will largely be made up of dividend payments. Should the labour share of the economy increase further and valuation multiples return to historic norms, then equity return expectations would be even lower.

What about bonds? Today, yields are far below what they were 50 years ago. Back then, 10-year US Treasury and German government bonds were yielding around 7%, but those yields have now respectively fallen to below 2% and below 0%. So while equities look like they are positioned to return less than in the past, we know bonds will. With inflation-linked bonds in the US yielding 0.5%, and almost -1%? in Germany, just maintaining your purchasing power will be a challenge for bondholders over the next decade, let alone earning a positive return after tax and inflation.


What should investors do?
Investors should expect lower equity returns than they have become used to, while "risk-free" assets like government bonds are unlikely to return enough to cover inflation. At the same time, intermediate assets like corporate bonds could yield as much as or more than equities, and with substantially less volatility, in the coming years.

The critical challenge will be to find assets that maintain their principal and generate some modest returns. In our view, shorter-maturity corporate bonds, dividend-yielding equities and stocks exposed to disruptive technology are most likely to generate modest positive returns.


899327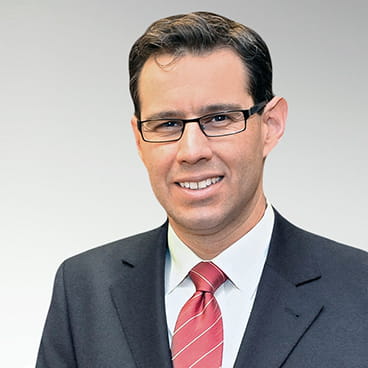 CIO Insurance-related Strategies
Karl Happe is Chief Investment Officer (CIO) Insurance Related Strategies with Allianz Global Investors, which he joined in 2013. He leads a team that manages equity and fixed-income portfolios for insurers. Karl was previously the head of the global fixed-income strategy team, responsible for managing global fixed-income portfolios for Allianz. Before joining Allianz in 2004, he worked at McKinsey & Co. in Munich; at BankBoston as the head of non-USD fixed income derivatives trading; and at Morgan Stanley in private equity and fixed income derivatives structuring and trading in New York, Frankfurt and London. Karl has a B.S.E in civil engineering and operations research, summa cum laude, from Princeton University and studied at the University of Stuttgart on a Fulbright scholarship. He also has an M.B.A. with distinction from INSEAD.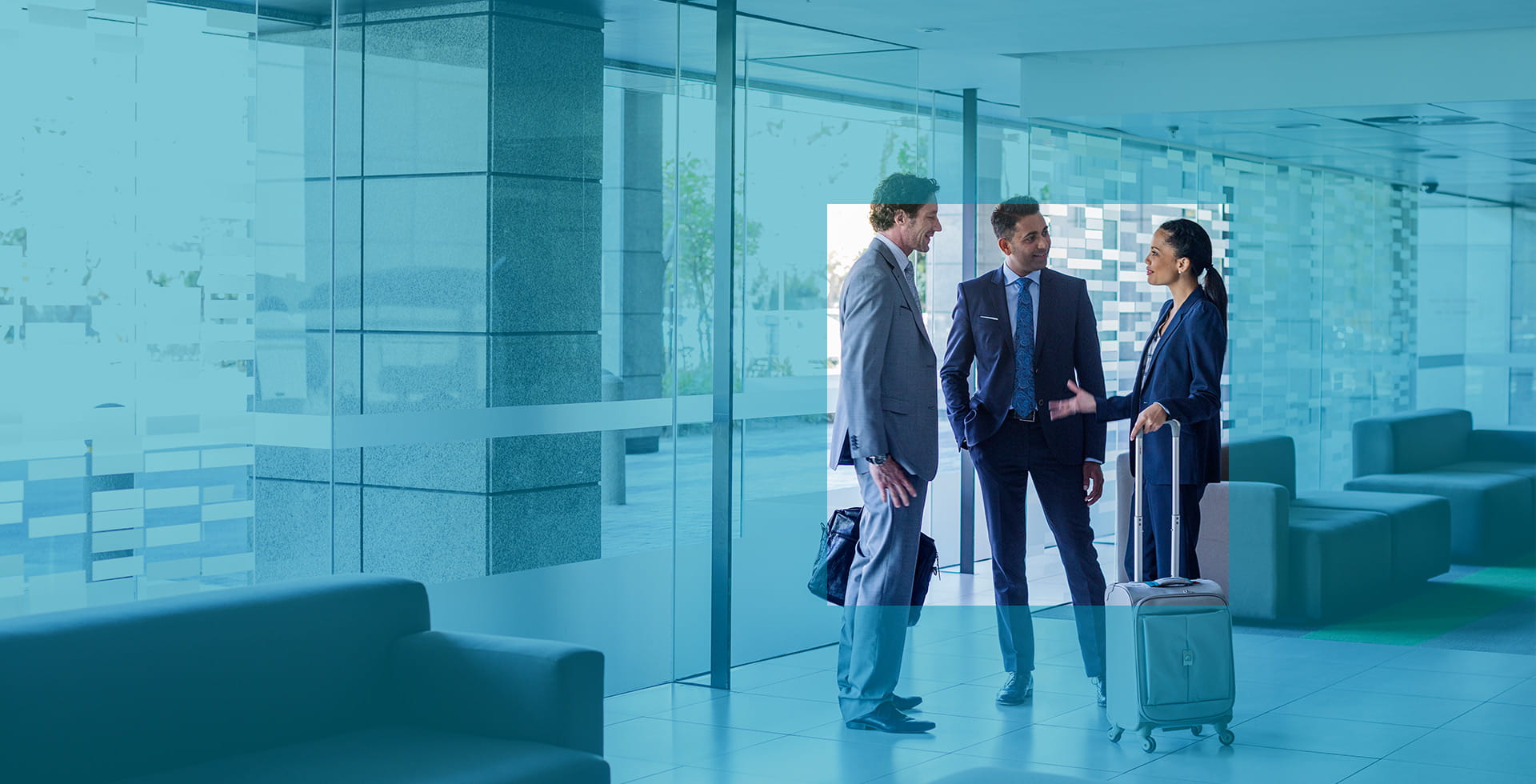 Summary
Travel spending is set to continue strongly in 2019, with nearly all sources expecting spending to increase or remain flat year-to-year. Most said their companies have not found it necessary to make any specific policy changes to address global security concerns, and no shifts in preferred hotel classes/types are anticipated in 2019 vs. 2018.
Investing involves risk. The value of an investment and the income from it will fluctuate and investors may not get back the principal invested. Investing in the water-related resource sector may be significantly affected by events relating to international political and economic developments, water conservation, the success of exploration projects, commodity prices and tax and other government regulations. Past performance is not indicative of future performance. This is a marketing communication. It is for informational purposes only. This document does not constitute investment advice or a recommendation to buy, sell or hold any security and shall not be deemed an offer to sell or a solicitation of an offer to buy any security.

The views and opinions expressed herein, which are subject to change without notice, are those of the issuer or its affiliated companies at the time of publication. Certain data used are derived from various sources believed to be reliable, but the accuracy or completeness of the data is not guaranteed and no liability is assumed for any direct or consequential losses arising from their use. The duplication, publication, extraction or transmission of the contents, irrespective of the form, is not permitted.

This material has not been reviewed by any regulatory authorities. In mainland China, it is used only as supporting material to the offshore investment products offered by commercial banks under the Qualified Domestic Institutional Investors scheme pursuant to applicable rules and regulations. This document does not constitute a public offer by virtue of Act Number 26.831 of the Argentine Republic and General Resolution No. 622/2013 of the NSC. This communication's sole purpose is to inform and does not under any circumstance constitute promotion or publicity of Allianz Global Investors products and/or services in Colombia or to Colombian residents pursuant to part 4 of Decree 2555 of 2010. This communication does not in any way aim to directly or indirectly initiate the purchase of a product or the provision of a service offered by Allianz Global Investors. Via reception of his document, each resident in Colombia acknowledges and accepts to have contacted Allianz Global Investors via their own initiative and that the communication under no circumstances does not arise from any promotional or marketing activities carried out by Allianz Global Investors. Colombian residents accept that accessing any type of social network page of Allianz Global Investors is done under their own responsibility and initiative and are aware that they may access specific information on the products and services of Allianz Global Investors. This communication is strictly private and confidential and may not be reproduced. This communication does not constitute a public offer of securities in Colombia pursuant to the public offer regulation set forth in Decree 2555 of 2010. This communication and the information provided herein should not be considered a solicitation or an offer by Allianz Global Investors or its affiliates to provide any financial products in Brazil, Panama, Peru, and Uruguay. In Australia, this material is presented by Allianz Global Investors Asia Pacific Limited ("AllianzGI AP") and is intended for the use of investment consultants and other institutional/professional investors only, and is not directed to the public or individual retail investors. AllianzGI AP is not licensed to provide financial services to retail clients in Australia. AllianzGI AP (Australian Registered Body Number 160 464 200) is exempt from the requirement to hold an Australian Foreign Financial Service License under the Corporations Act 2001 (Cth) pursuant to ASIC Class Order (CO 03/1103) with respect to the provision of financial services to wholesale clients only. AllianzGI AP is licensed and regulated by Hong Kong Securities and Futures Commission under Hong Kong laws, which differ from Australian laws.

This document is being distributed by the following Allianz Global Investors companies: Allianz Global Investors U.S. LLC, an investment adviser registered with the U.S. Securities and Exchange Commission; Allianz Global Investors Distributors LLC, distributor registered with FINRA, is affiliated with Allianz Global Investors U.S. LLC; Allianz Global Investors GmbH, an investment company in Germany, authorized by the German Bundesanstalt für Finanzdienstleistungsaufsicht (BaFin); Allianz Global Investors (Schweiz) AG; Allianz Global Investors Asia Pacific Ltd., licensed by the Hong Kong Securities and Futures Commission; Allianz Global Investors Singapore Ltd., regulated by the Monetary Authority of Singapore [Company Registration No. 199907169Z]; Allianz Global Investors Japan Co., Ltd., registered in Japan as a Financial Instruments Business Operator [Registered No. The Director of Kanto Local Finance Bureau (Financial Instruments Business Operator), No. 424, Member of Japan Investment Advisers Association and Investment Trust Association, Japan]; and Allianz Global Investors Taiwan Ltd., licensed by Financial Supervisory Commission in Taiwan.