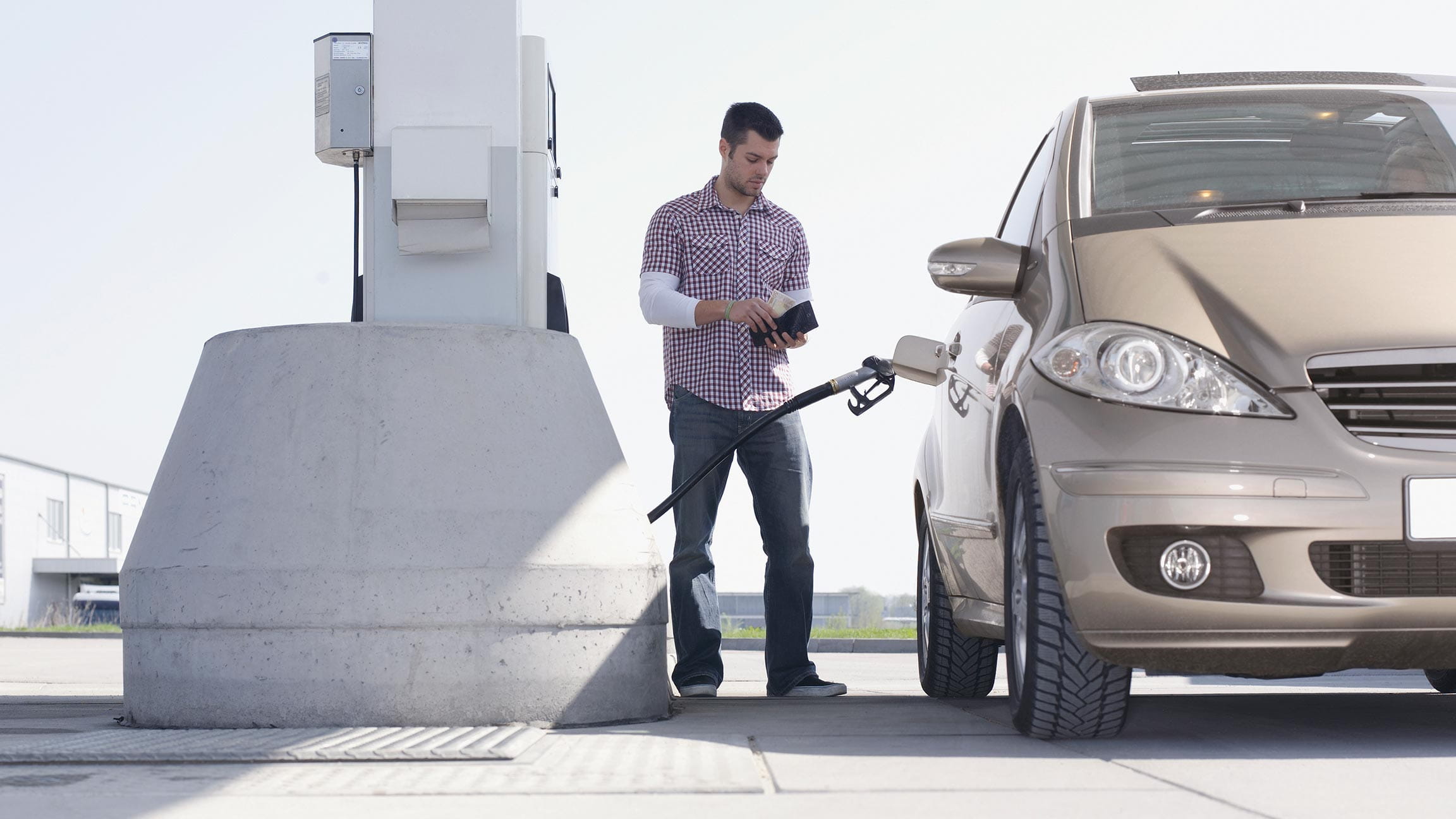 Summary
A new Grassroots® Research study shows that continued high US prices for petrol might have a cascading effect on other parts of the economy. The hardest-hit areas could include consumer discretionary spending – including food and restaurants, entertainment and travel – as well as retail auto parts.
Key takeaways


Higher petrol prices could spread beyond the energy industry to consumer discretionary; the restaurant and auto sectors could be particularly hard-hit

7 of every 10 US consumers in our new survey said higher pump prices are affecting how much they spend and save

More than 60% of our survey respondents said paying higher petrol prices meant spending less on food and restaurants in the last three months
Petrol prices have been moving higher – and US consumers are feeling the strain. The average price in the US for a gallon of regular petrol was USD 2.83 in mid-August 2018, according to the American Automobile Association, up around 21% from a year ago.

Our investment professionals are watching to see if the extra money consumers must spend on petrol will cause shifts in overall consumer spending and offset the benefits of recent tax cuts, which initially increased the overall take-home pay of many US consumers.
Grassroots® Research findings illustrate the impact of petrol prices
To help understand where consumers are cutting back due to increased spending on petrol, Grassroots® Research – Allianz Global Investors' proprietary in-house research division – surveyed about 1,000 drivers throughout the country in May 2018.

The results show that:
84% of respondents noticed an increase in petrol prices in the past six months.
71% said higher prices are affecting how much they spend on other merchandise and their ability to save.
Among the 84% who noticed higher prices, 68% are spending between USD 5 and USD 49 per week more to fill their tanks compared with one year ago. Approximately 20% are spending an extra USD 50 or more.
Restaurants are poised to lose the most
More than 60% of our survey respondents told us that spending more at the pump led to less spending on food and restaurants in the last three months, and the same percentage expects that to continue if prices remain high.

Jon Wolfenbarger, Senior Consumer Research Analyst at Allianz Global Investors, says higher gasoline prices are a particular headwind for restaurant spending among lower-income consumers. "The survey results could help explain why fast-food sales have been somewhat disappointing this year. However, tax cuts, solid employment and wage growth are offsetting higher gas prices for middle- and upper-income consumers, which has helped casual dining restaurant sales accelerate year-to-date."
High petrol prices will affect spending on restaurants, entertainment and leisure travel
Question: If petrol prices stay high, do you expect to spend less in any of the following categories in the next six months? (Select all that apply.)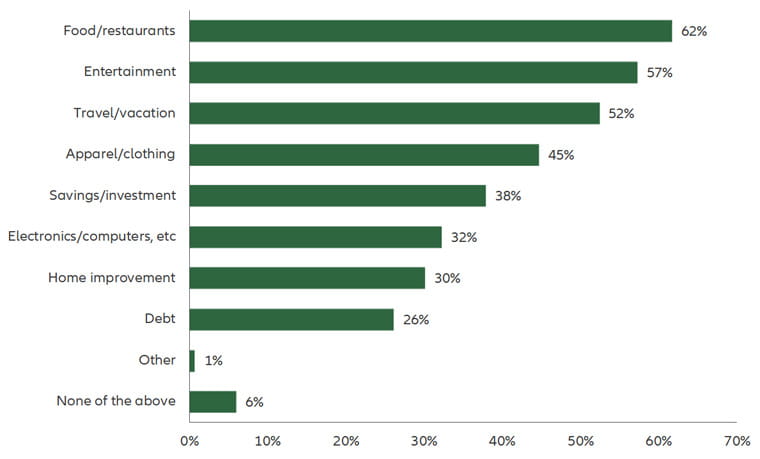 Source: Grassroots® Research. Data as at May 2018.
Keep an eye on retail auto parts
Historically, big increases in petrol prices have hurt sales performance in the retail auto parts industry. Courtney Sheldon, Consumer Research Analyst at Allianz Global Investors, says the key is the lower number of miles driven by consumers who are paying more at the pump. "The fewer miles driven by car, the less likely the vehicle is going to need some sort of repair, which has implications for auto parts retailers. We will monitor the impact rising gas prices have on this data point to see if it is becoming a concern."
Investment implication: high pump prices mean less spending in other areas
Given our Grassroots® Research team's findings, investors may want to keep a close eye on nonessential consumer spending – from fast food to entertainment – as well as spending on auto parts. Our survey results show that if petrol prices remain high or move higher, more than the energy industry could be affected.
Grassroots® Research is a division of Allianz Global Investors that commissions investigative market research for asset-management professionals. Research data used to generate Grassroots® Research reports are received from independent, third-party contractors who supply research that, subject to applicable laws and regulations, may be paid for by commissions generated by trades executed on behalf of clients.

Investing involves risk. The value of an investment and the income from it will fluctuate and investors may not get back the principal invested. Past performance is not indicative of future performance. This is a marketing communication. It is for informational purposes only. This document does not constitute investment advice or a recommendation to buy, sell or hold any security and shall not be deemed an offer to sell or a solicitation of an offer to buy any security. The views and opinions expressed herein, which are subject to change without notice, are those of the issuer or its affiliated companies at the time of publication. Certain data used are derived from various sources believed to be reliable, but the accuracy or completeness of the data is not guaranteed and no liability is assumed for any direct or consequential losses arising from their use. The duplication, publication, extraction or transmission of the contents, irrespective of the form, is not permitted. This material has not been reviewed by any regulatory authorities. In mainland China, it is used only as supporting material to the offshore investment products offered by commercial banks under the Qualified Domestic Institutional Investors scheme pursuant to applicable rules and regulations. This document is being distributed by the following Allianz Global Investors companies: Allianz Global Investors U.S. LLC, an investment adviser registered with the U.S. Securities and Exchange Commission; Allianz Global Investors GmbH, an investment company in Germany, authorized by the German Bundesanstalt für Finanzdienstleistungsaufsicht (BaFin); Allianz Global Investors Asia Pacific Ltd., licensed by the Hong Kong Securities and Futures Commission; Allianz Global Investors Singapore Ltd., regulated by the Monetary Authority of Singapore [Company Registration No. 199907169Z]; Allianz Global Investors (Schweiz) AG, licensed by FINMA (www.finma.ch) for distribution and by OAKBV (Oberaufsichtskommission berufliche Vorsorge) for asset management related to occupational pensions in Switzerland; Allianz Global Investors Asia Pacific Ltd., licensed by the Hong Kong Securities and Futures Commission; Allianz Global Investors Singapore Ltd., regulated by the Monetary Authority of Singapore [Company Registration No. 199907169Z]; Allianz Global Investors Japan Co., Ltd., registered in Japan as a Financial Instruments Business Operator [Registered No. The Director of Kanto Local Finance Bureau (Financial Instruments Business Operator), No. 424, Member of Japan Investment Advisers Association and Investment Trust Association, Japan];and Allianz Global Investors Taiwan Ltd., licensed by Financial Supervisory Commission in Taiwan.

597613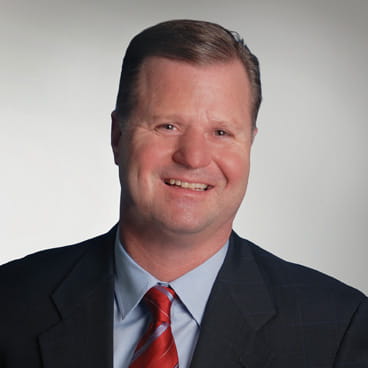 Vice President, Research Analyst
San Francisco, California
Mr. Simon is a research analyst and a vice president with Allianz Global Investors, which he joined in 1993. As a member of the firm's Grassroots® Research team, a division that commissions proprietary and customized investigative research, he is responsible for managing market research projects for asset-management professionals. Mr. Simon was previously a portfolio analyst with the US Large Cap Growth team, where he conducted research on portfolio holdings. Earlier in his career, Mr. Simon was a registered representative for Amev Financial Group (now Fortis) and a trust administrator for First Trust Corporation. He has a B.A. in business administration from Fort Lewis College.
Summary
The footprint of human consumption is continuously growing and stretching the boundaries of our Earth's ecological capacity. While global GDP growth is broadly considered a key indicator of a healthy economic state, we may run into deep sustainability challenges if we continue "business as usual". All things being equal, we are on a path to consume DOUBLE the Earth's annual ecological regenerative capacity by 2050. What does this generational challenge mean for society and in particular for investors?
Key takeaways
Human consumption is now estimated to be the equivalent to 1.7 times of what the Earth can naturally restore in a year and set to reach 2 times of Earth's capacity by 2050.

To bring the size of the ecological Earth overshoot back to a sustainable level, we must rethink our lifestyles and economy.

The expected change will have long-term and far-reaching consequences across geographies and industries.

Active investment management is key to anticipate different scenarios and help prepare investors' portfolios for the arising risks and opportunities.