Investment Forum Focus: Central Banks, China and Disruptive Change
Twice a year, our top professionals gather at our Investment Forum to form a global economic outlook that sharpens our long-term thinking and helps our clients make smarter investment decisions. Here's a look at our most recent forum in Hong Kong.
Findings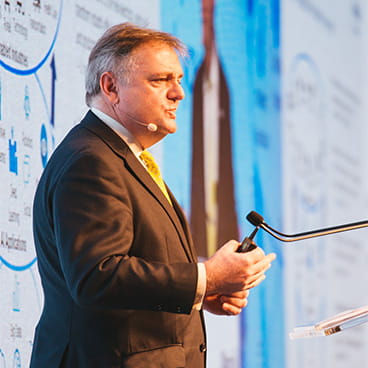 "Some fear the markets are complacent, but investors can find ample opportunities to take risks that can be managed with confidence."
Neil Dwane Global Strategist
Findings from Our Hong Kong Investment Forum
Our strategists, economists and portfolio managers recently convened in Hong Kong to reflect on the state of the global economy today – and its direction over the next 3-5 years. The gradual tightening of monetary policy could bring a return of volatility, especially in developed markets, but Asia in general and China in particular are bright spots.
The competing factors of geopolitical turmoil, demographic change and technological advancement will make for an interesting if uncertain investment climate in 2018
The scale of central bank support is diminishing globally, but we expect the overall shift to be slow; income opportunities abound for investors willing to look beyond benchmark bonds
The outlook for China and Asian markets overall remains favorable – so much so that one of the biggest risks to investors' portfolios may be an "unconscious" underweight to China
Disruptive business models are reshaping investment opportunities across the globe; the US and Europe will need to respond to high-tech competition from China
For more on the forum's findings, take a look at Neil Dwane's in-depth analysis:
Read more
410497
Insights
Watch our investment experts discuss timely topics that matter to investors. Hear from Andreas Utermann on changing monetary policy, William Russell on China's A-shares and Raymond Chan on China's moment in the sun.
410497
Overview
Topics
Demographic deceleration: What can Japan teach the world?

Global politics and policies in 2018

China's 5-year outlook, and investing in Asia disruptively

The global hunt for income amid rising rates
410498
Infographic
Some or all the securities identified and described may represent securities purchased in client accounts. The reader should not assume that an investment in the securities identified was or will be profitable. The securities or companies identified do not represent all of the securities purchased, sold, or recommended for advisory clients. Actual holdings will vary for each client. FANG is an acronym widely used on Wall Street and among many investors; it stands for four high-performing large-cap technology companies – Facebook, Amazon, Netflix and Google (now Alphabet) – that are also household names. BAT is a similarly widely used acronym for three large-cap tech companies in China: Baidu, Alibaba and Tencent.
423466
Related Documents