Key Investment Forum topics: disruption, inequality and Brexit
Twice a year, our top professionals gather at our Investment Forum to form a global economic outlook that sharpens our long-term thinking and helps our clients make smarter investment decisions. Here's a look at our most recent Forum in London.
Findings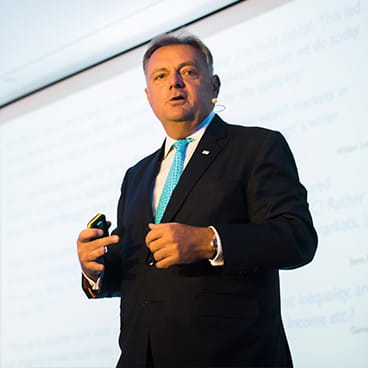 "With returns likely to be muted over the next 5-10 years, an active, engaged approach to investing can help generate value and minimise risks to portfolios."
Neil Dwane Global Strategist
Findings from our London Investment Forum
The global economy is still doing fairly well, but politics and trade will drive markets in increasingly unexpected ways.
Uncertainty and volatility are hallmarks of the global economic outlook; this is an opportunity for active managers to pick out the winners from the losers
Brexit and President Trump's trade policies are adding to a climate of uncertainty, though the winners will become apparent in the longer term
Inequality is a genuine threat to economic and social stability, but there are many options open to companies willing to redress imbalances
Disruption through cyberattacks can damage returns, but engaging with companies can help assess their ability to handle cyber risks


For more on the Forum's findings, take a look at Neil Dwane's in-depth analysis:
Read more
612823