Staying active: how to regain
trust in active management
How do institutional investors view active asset management? How do they rate their managers' ability to address their changing needs?
Those were among the questions we set out to explore when we commissioned Oxford Economics to survey 490 institutional investors globally in November and December 2018.

The case for active asset management always grows clearer towards the end of a market cycle. As volatility increases, gains are harder to come by, and the discomfort of riding a turbulent index can add to uncertainty about the future.

But while the majority of investors recognise the benefits of active management, many remain unconvinced that these benefits are worth their current cost – even as market conditions become more complex.

Our research explores why investors are sceptical. It also does something practical: by identifying where investors need support today, we show how asset managers can restore trust and make the case for active management. Below you can explore key takeaways from the research or you can download the full report.
Asset managers are expected to have up-to-date tools for improving financial outcomes and enhancing the client experience.

At the same time, they are also expected to guide investors through the hype of digital transformation, backing companies likely to emerge as long-term winners and avoiding those doomed to obsolescence by more technologically advanced competitors.

According to our survey, investors favour active over passive managers on both counts:
Nearly three-quarters (71%) of respondents say active management is better for managing market risks caused by digital transformation.
61% think active managers are better at taking advantage of artificial intelligence (AI) and Big Data to capture market opportunities for investors.
Almost universally, institutions themselves expect emerging technologies to play a growing role in their business. Globally, 87% of survey respondents say they plan to use AI and Big Data in the investment process within the next five years.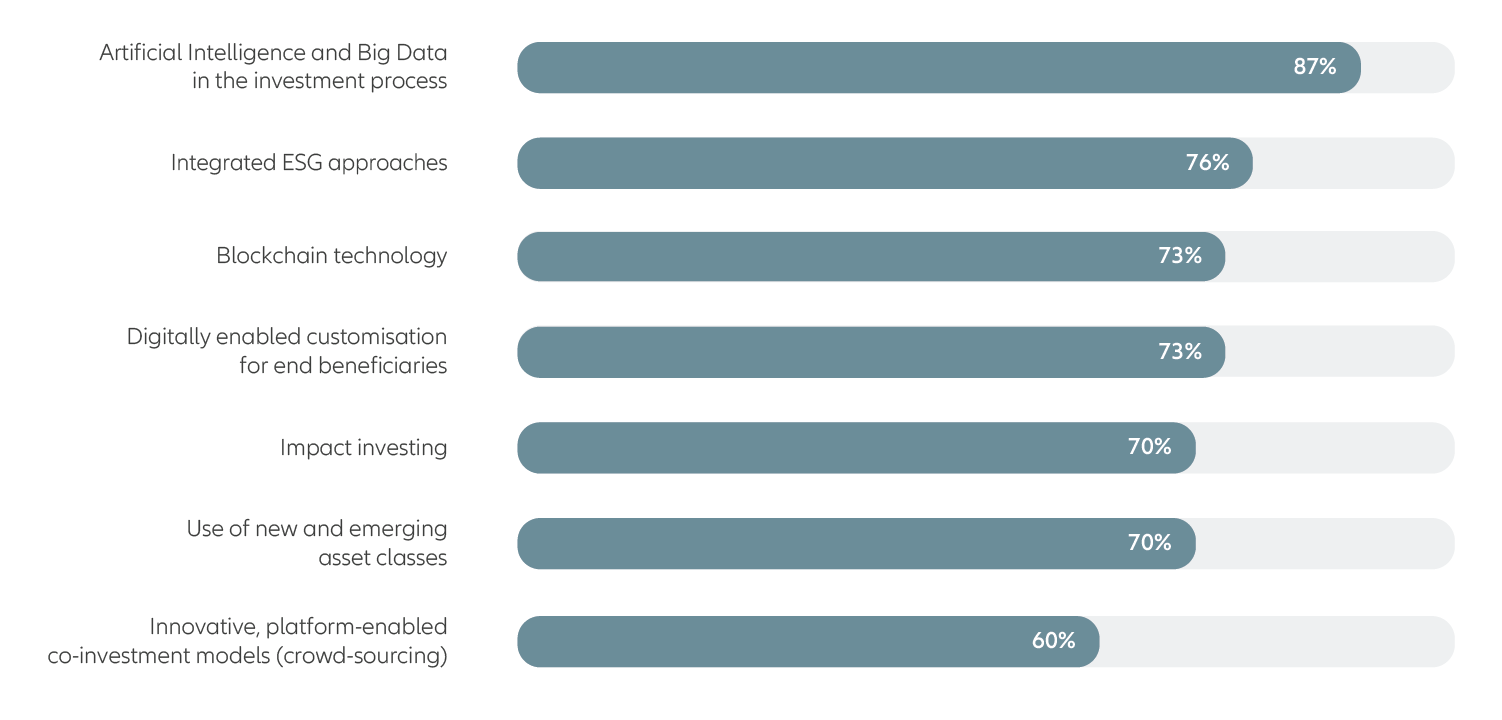 Percentage responding "Somewhat likely" or "Extremely likely". Source: Allianz Global Investors 2019 Institutional Investor Survey

And investors clearly think the right technology can give them a competitive advantage with their clients: nearly three-quarters of respondents overall (73%) expect to be using digital tools to tailor the service for their beneficiaries, and the same proportion see themselves using blockchain.

Investors are likely to expect the same progress on the part of their managers.
PREVIOUS
NEXT
DOWNLOAD FULL REPORT
---
Study methodology
Allianz Global Investors commissioned Oxford Economics to conduct telephone surveys of 490 institutional investors, including insurers, public and private pension plans, sovereign wealth funds, family offices, foundations, endowments and banks, in 13 markets worldwide.

Oxford Economics selected respondents across markets and institution types that reflect our client base. Respondents represent total assets under management exceeding USD 15 trillion.

Respondents may include Allianz Global Investors clients, but clients were not specifically targeted so any such overlap would be coincidental.

The survey was fielded anonymously in November and December 2018. The 490 respondents were split as follows:


Region

AuM

Europe

56%

USD 100 billion – USD 500 billion

17%

Asia Pacific

24%

USD 25 billion – USD 99.9 billion

16%

US

14%

USD 10 billion – USD 24.9 billion

10%

Middle East

6%

USD 5 billion – USD 9.9 billion

8%

USD 1 billion – USD 4.9 billion

15%

USD 500 million – USD 999 million

20%




< USD 500 million

14%