Historically high valuations
In our view, valuation is the most important metric and US equities in particular seem expensive. We base this on the valuation measurement that we think is cleanest from a theoretical and empirical perspective: the cyclically adjusted price-earnings ratio (CAPE). This is the de facto industry valuation standard – and it is revealing.
At the end of April 2021, the S&P 500 traded at a CAPE of 37 – a reading last seen in late 1998 during the tech bubble (see Exhibit 1). It reached a peak of 44 in early 2000 before the bubble burst.
The Nasdaq tells a similar story. Its CAPE of 55 in April 2021 is similar to its March 1998 level. But notably, today's high US valuations go well beyond the tech sector. Almost all sectors, with the exception of consumer staples and banks, are trading at high multiples.
In comparison, we don't find non-US equities to be at stretched valuations (see Exhibit 2). European, Japanese and Asian equities are trading at or below their long-term average valuation multiples. This points to another way in which today's elevated markets are different from the tech bubble of the late 1990s and early 2000s: back then, equity markets around the world were at elevated valuation levels.
Exhibit 1: US stocks seem expensive, reminiscent of previous market peaks
S&P 500 Index CAPE (1881-2021)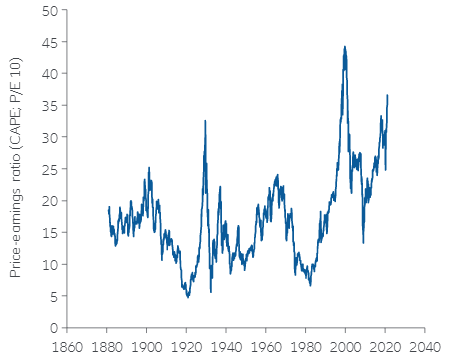 Source: Allianz Global Investors, Robert Shiller. Data as at April 2021.
Exhibit 2: Non-US equity markets seem more reasonably priced
Equity market CAPE: MSCI Europe, MSCI Japan, MSCI Asia ex-Japan (1980-2021)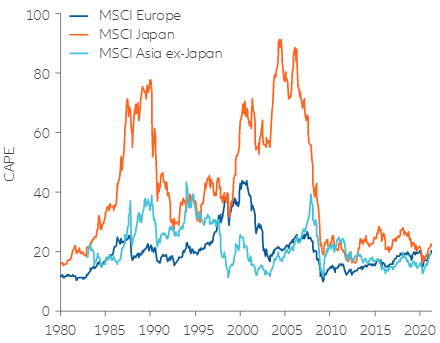 Source: Allianz Global Investors, Robert Shiller. Data as at April 2021.
And we are not convinced that high valuations can be justified by ultra-low bond yields. Low real yields have historically typically implied rather low multiples, since low yields point to a slow-growth environment and a higher risk of recession. Clearly, some other market forces are at work today, since yields are near historic lows and equity valuations (at least in the US) are near historic highs. Monetary policy over the decades has lifted investors' risk appetite to extremes, powering the run-up in equities.
Still, today's ultra-low bond yields can tell us something about the equity market outlook. While US equity returns are likely to be low, on average, over the coming decade, they are still likely to outperform US bonds. We can estimate this based on the work of Robert Shiller, using the excess earnings yield of equities relative to bonds. (This can be calculated by subtracting the current bond yield from the equity earnings yield; see Exhibit 3.) Using the late April 2021 yield of 1.6% for 10-year US Treasuries, we can estimate that in the US, equities are poised to outperform bonds by around 2.6% per year over the next 10 years.
Exhibit 3: Over time, the excess earnings yield has helped explain the relative performance of equities to bonds
S&P 500 excess CAPE yield and subsequent 10-year annualized excess returns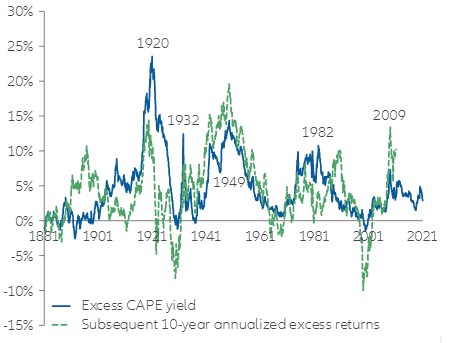 Source: Allianz Global Investors, Robert Shiller. Data as at April 2021.