Episode 43:

Green bond investing in times of rising oil prices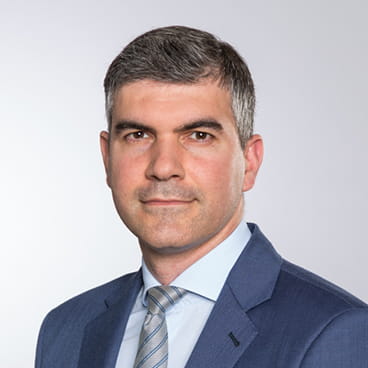 Georgios Georgiou
Global Head of Fixed Income Product Specialists
Listen to Global Head of Fixed Income Product Specialists Georgios Costa Georgiou discuss the fixed-income investment landscape amid rising inflation, monetary policy tightening, Russia's invasion of Ukraine, and a subsequent spike in commodity prices. Specifically, Georgios discusses how investors should consider sustainable investing—especially green bonds—in times of rising oil prices.
Show notes
The Investment Intelligence Podcast: Green bond investing in times of rising oil prices
Host: J.P. Vicente, Head of US Marketing & Client Engagement at Allianz Global Investors
Featured guests: Georgios Costa Georgiou, Global Head of Fixed Income Product Specialists at Allianz Global Investors
Notes, quotes and references:
J.P. and Georgios discuss fixed income investing amid rising inflation, monetary policy tightening and heightened volatility. They also talk about one of the unexpected, potential long-term implications of Russia's invasion of Ukraine—speeding the adoption of green bonds and thereby helping to advance the world economy's energy transition away from fossil fuels to more renewable energy sources.
Some key thoughts and topics from this episode:
After a tough start to the year have fixed-income markets priced-in all the bad news?
"We have seen volatile spike, not only in equity markets but in fixed income markets as well. We've seen liquidity in some areas of the market, like in high-yield credit, become more challenged over the last few weeks and, when you look at performance of the major indices across fixed income asset classes, it does seem that a lot of the bad news has been priced in already."
Might investments in security after Russia's invasion of Ukraine crowd out sustainable investing?
"This current crisis has effectively led to a confluence of national security, energy security, and environmental security. So, these things are now coming together as objectives into one. Several major economies are now pushing for a faster switch to renewables as part of their strategy to end dependence on Russian oil and gas ... and the energy price shock is working already as an accelerator for green financing and the transition to renewables."
The types of green bonds have been expanding recently, what are those new categories?
"We've seen increased issuance of social bonds ... to finance the economic recovery that was so badly needed in many European Union member states because of the negative effects of the pandemic on employment, for example. Both green bonds and social bonds are use-of-proceeds bonds and are also part of a broader category of debt called sustainability-labeled debt, which combine green and social objectives. We also have a younger, more recent type of bond called sustainability-linked bonds … that are explicitly tied to sustainability targets that the company issuing the bond commits to."
Do green bonds offer a return differential compared to traditional bonds?
"There are not a lot of systematic differences, when we look at green bonds and try to compare them with … conventional counterparts ... which leads many investors to the conclusion that the impact returns—environmental returns or social returns—should both feature in the equation when deciding to allocate to this market."
The full episode has even more details on the topics above. Check it out.
You can read a recent column about how recent events in Europe affect the opportunities in transitional energy here and an article about unlocking the "S" in capitalism here.
Cultural recommendations:
J.P. recommends Live from Lincoln Theatre by The Milk Carton Kids. Folk Alley writes that the album "illustrates what's best about Milk Carton Kids: their blend of folksy humor and roots music charms and entertains, and their transcendent harmonies transport us momentarily out of ourselves, even as the duo's humor reminds us of our foibles, counseling us to laugh at them."
Georgios has been reading The Precipice: Existential Risk and the Future of Humanity, by Oxford University moral philosopher Toby Ord, which details the risks facing mankind, from nuclear war to pandemics, but optimistically offers actions and strategies that can safeguard our shared future.
Creativity and editing: Peter Lennox.
Production: Mark Egan.
2091685