Episode 20:

How will President Biden's spending plans impact infrastructure investing?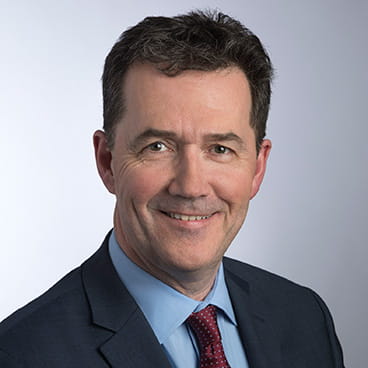 Director, Portfolio Manager Head of Americas, Infrastructure Debt
Listen to Head of Infrastructure Debt Investing in the Americas Paul David discuss the outlook for the asset class in 2021 in light of a new political environment in the US, and President Biden's plans to increase spending in infrastructure. Also: How a new wave of technology investing can benefit infrastructure debt investors; the rollout of COVID-19 vaccines; spreads in the US and Latin America, and more.
Show notes
The Investment Intelligence Podcast: How will President Biden's spending plans impact infrastructure investing?
Host: J.P. Vicente
Featured guest: Head of Americas, Infrastructure Debt Paul David
Notes, quotes and references:
J.P. chats with Paul about what Biden administration spending could mean for the infrastructure debt asset class, which started 2021 with a bright outlook after a tough 2020. They discuss market conditions, the promise of investment in technology infrastructure, balancing sustainable investing with global energy demand, opportunities in Latin American and where infrastructure fits in portfolios.
Some key thoughts and topics from this episode:
What does a Biden administration mean for the infrastructure debt market?
"All indications are that the direction of travel of Biden, particularly as it relates to the greener economy and fighting climate change and what that means for our industry, are positive. For a starter, signing up to the Paris climate agreement; that's absolutely key. And that is, I think, going to result in more activity, particularly in the renewable space. … I'm very optimistic about how things are panning out. It's been a difficult 2020. I think we're all sort of breathing a sigh of relief that 2021 looks promising."
Will increased government infrastructure spending expand the opportunity set for investors?
"I think the Biden administration is definitely going to be facilitating bigger investments in (clean energy infrastructure), whether they do them themselves, or whether they give tax credits to facilitate more and bigger investments by the private sector entities into the sector. I think it's more likely to be the latter, and that's good for business. It creates an environment where entrepreneurs can do things that benefit society."
This stimulus is set to include technology infrastructure investment. Should investors in traditional infrastructure invest in this newer area, too?
"What we call core-plus (infrastructure) includes telecoms, 5G, and broadband. Perhaps it includes battery storage, which is more at the leading edge, but is essential for renewables and developing those. Those sectors have also done pretty well, so there's a growing interest from investors."
As we transition to a "greener" economy, are infrastructure investors embracing sustainability?
"More and more, we're seeing investors in the industry are very much focused on environmental, social and governance (ESG) considerations and making sure that investments are sustainable."
Have covenants on infrastructure become tougher over concerns about potential credit downgrades?
"Covenants aren't changing because, the good news is they work. The covenants that people put in place to protect their investments have been working. And, there is no need to change."
Are you concerned that a Latin American recession could hurt the infrastructure sector?
"I'm still very positive about the region. And the good news is that you actually can get paid very well for that as well at the moment … Spreads are wider than they were, and therefore, the pick-up you get is closer to getting non-investment-grade returns for investment-grade investments."
Where does infrastructure debt sit in an institutional portfolio?
"It's a good complement as part of your core fixed-income allocation to put 5-10% of it into infrastructure debt. (For its diversification, potential yield pick-up and lower volatility attributes) it makes sense to diversify your corporate investment-grade holdings by including some infrastructure debt as part of that portfolio."
The full episode has even more details on the topics above. Check it out.
Cultural recommendations:
J.P. recommends the iconic 1995 indie movie Smoke, directed by Wayne Wang and written by Paul Auster, about the owner and patrons of a small tobacconist store called the Brooklyn Cigar Co., portraying a New York that is fading in the fog of time.
Paul has been listening to the audio version of former President Barack Obama's A Promised Land: The Presidential Memoirs, Volume 1, reading the book Sapiens: A Brief History of Humankind and watching James Cameron's classic movie Terminator II: Judgement Day.
Creativity and editing: Timothy Wong
Production: Mark Egan
1496656