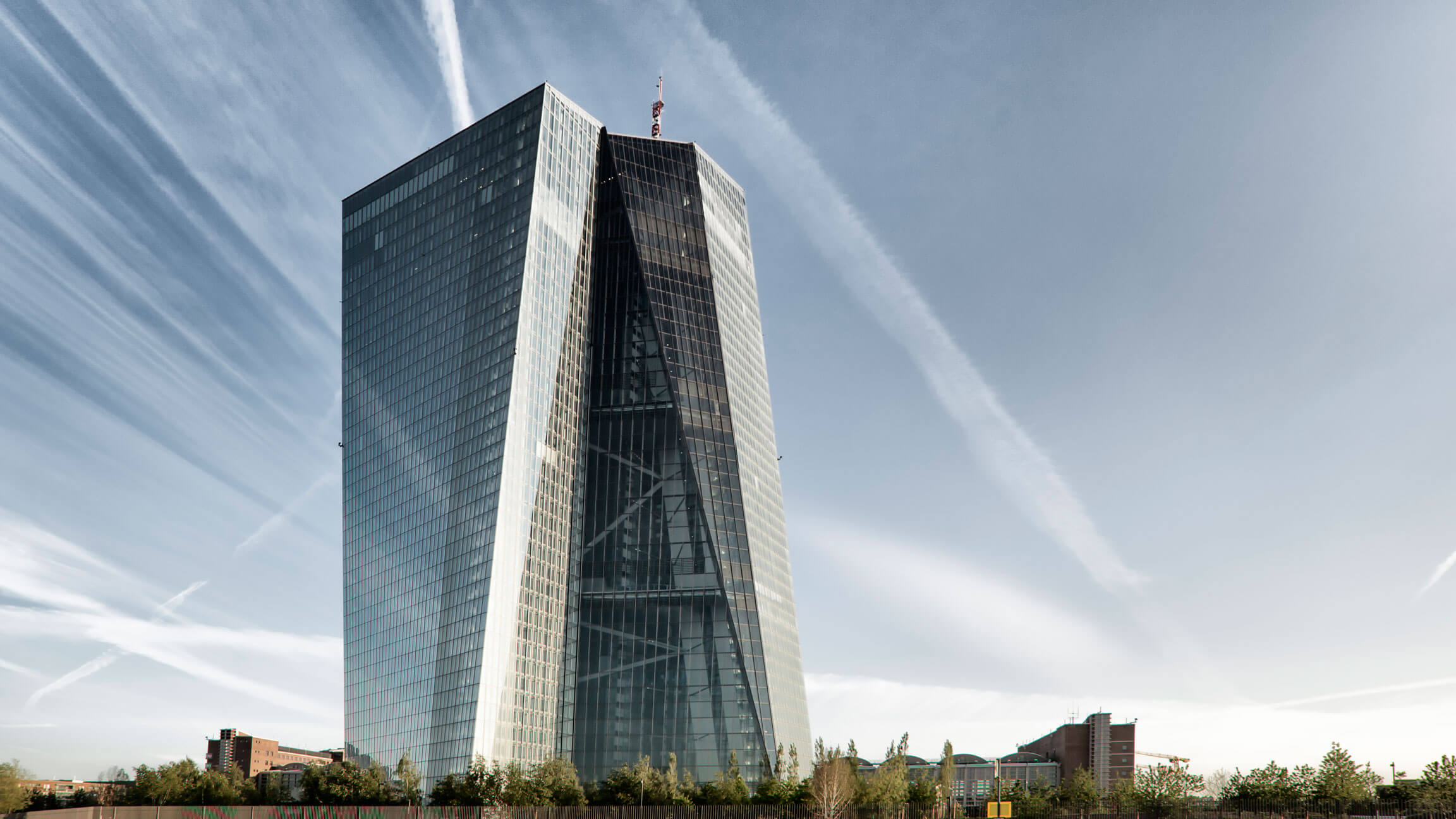 Summary
The ECB's historic levels of sovereign-bond purchases have pushed yields into negative territory, but some investors fear a supply shortage might hit before QE ends in 2017. Adjusting the ECB's QE parameters could help address this issue.
After 17 months of sovereign-bond purchases by the European Central Bank (ECB) – not to mention negative deposit rates and heightened Brexit-related political uncertainty – more than half of the euro zone's government bonds are currently carrying a negative nominal yield.

This has put the concept of "scarcity scares" back on the agenda, with investors asking themselves what would happen if the euro area's central banks ran out of bonds to buy. Markets worry that the ECB's self-imposed purchasing constraints, particularly its deposit-rate restriction, increase the likelihood of this scenario.*

The good news is that on the aggregate level, the scarcity problem might not come to pass for a while. For the euro zone as a whole, the currently available supply of assets eligible for the public sector purchase programme (PSPP) is still exceeding the ECB's expected demand until the end of March 2017. Still, Germany's Bundesbank could be the first national central bank that runs out of eligible bonds to purchase. Of course, this supply shortage would be even more pressing if any quantitative easing (QE) were to be extended beyond March.

To address these scarcity issues, the ECB's Governing Council will likely try to implement technical solutions (such as dropping the deposit-rate floor) instead of political ones (such as adjusting its "capital key" rules).

The ECB's capital key says that sovereign-bond purchases must be split across countries according to the respective country's share in the total population and GDP of the region (for example, 25.6 per cent for Germany and 20.1 per cent for France). However, there is no legal requirement to buy assets in line with the capital key, and substitute purchases – such as bonds issued by supranational institutions – are already allowed.

One option for the ECB is to waive this rule, which would likely result in the central bank buying a higher proportion of the bonds from more indebted member states. This would open up the ECB to criticism that it is heading toward monetary financing.

To avoid this scenario, the ECB might not waive the capital key rule entirely. Instead, the Governing Council could try several approaches to adjust the QE parameters, including increasing the issue limit for government bonds issued without collective action clauses (CACs); lowering the deposit rate or dropping the rate floor; changing the eligible maturity range; and/ or broadening the eligible asset universe.

No matter what the ECB decides to do with the capital key, one thing seems to be clear: Given today's market conditions, the ECB will almost certainly need to adjust its QE parameters in the months ahead.

'Scarcity Scares' Are Back on the Agenda
Germany's Bundesbank could be hardest-hit by self-imposed constraints.
Estimated holdings of government bonds (as at 31 July 2016; in EUR bn).
Expected purchase volume until end of PSPP (EUR bn).
Outstanding PSPP-eligible govt. bonds accord. to maturity range, deposit rate restriction and issue limit, less Eurosystem holdings (not readjusted for eligibility criteria; in EUR bn).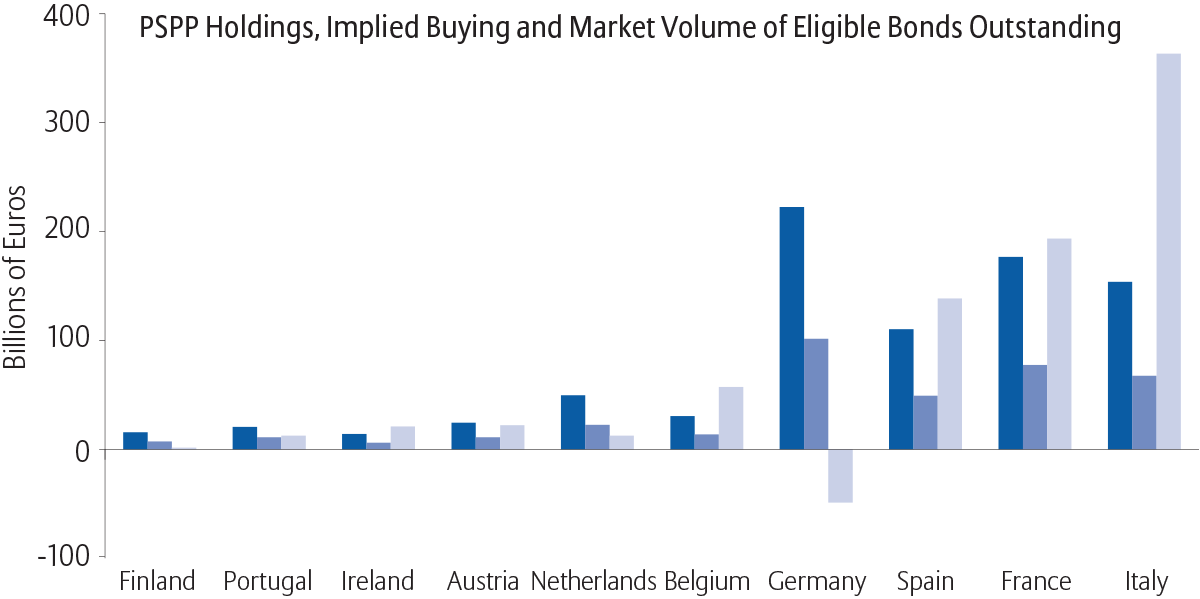 Source: Bloomberg, ECB, AllianzGI Global Capital Markets & Thematic Research as at 3 August 2016 (unless otherwise stated). Past performance is not a reliable indicator of future results.

* Additional information about the ECB's purchasing constraints:
1) Maturity range: The remaining maturity of the bonds must be between two years and less than 31 years.
2) Deposit-rate restriction: The ECB only acquires government bonds whose yield is above the ECB's deposit facility rate (currently -0.40 per cent per annum). 3) Issuer/ issue limit: As part of the PSPP, the ECB purchases a maximum of 33 per cent of the outstanding bonds of an issuer and of each single issue, except for bonds with CACs, where the issue-share limit is 25 per cent (subject to a case-by-case verification).
Investing involves risk. The value of an investment and the income from it will fluctuate and investors may not get back the principal invested. Past performance is not indicative of future performance. Equities have tended to be volatile, and unlike bonds do not offer a fixed rate of return. Emerging markets may be more volatile, less liquid, less transparent and subject to less oversight, and values may fluctuate with currency exchange rates. Bond prices will normally decline as interest rates rise. Below investment grade convertible and fixed-income securities involve a greater risk to principal than investment grade securities. This is a marketing communication. It is for informational purposes only. This document does not constitute investment advice. References to specific securities are not intended to be, and should not be interpreted as an offer, solicitation or recommendation to purchase or sell any financial instrument, an indication that the purchase of such securities was or will be profitable, or representative of the composition or performance of any AllianzGI product.
The views and opinions expressed herein, which are subject to change without notice, are those of the issuer or its affiliated companies at the time of publication. Certain data used are derived from various sources believed to be reliable, but the accuracy or completeness of the data is not guaranteed and no liability is assumed for any direct or consequential losses arising from their use. The duplication, publication, extraction or transmission of the contents, irrespective of the form, is not permitted.
This material has not been reviewed by any regulatory authorities. In mainland China, it is used only as supporting material to the offshore investment products offered by commercial banks under the Qualified Domestic Institutional Investors scheme pursuant to applicable rules and regulations.
This document is being distributed by the following Allianz Global Investors companies: Allianz Global Investors U.S. LLC, an investment adviser registered with the U.S. Securities and Exchange Commission (SEC); Allianz Global Investors Distributors LLC, a broker-dealer registered with the SEC; Allianz Global Investors GmbH, an investment company in Germany, authorized by the German Bundesanstalt für Finanzdienstleistungsaufsicht (BaFin); Allianz Global Investors Asia Pacific Ltd., licensed by the Hong Kong Securities and Futures Commission; Allianz Global Investors Singapore Ltd., regulated by the Monetary Authority of Singapore [Company Registration No. 199907169Z]; and Allianz Global Investors Japan Co., Ltd., registered in Japan as a Financial Instruments Business Operator; Allianz Global Investors Korea Ltd., licensed by the Korea Financial Services Commission; and Allianz Global Investors Taiwan Ltd., licensed by Financial Supervisory Commission in Taiwan. GrassrootsSM Research is a division of AllianzGI Research. Data used to generate GrassrootsSM Research recommendations is received from reporters and field force investigators who work as independent contractors for broker-dealers. Those broker dealers supply research to AllianzGI and certain of its affiliates that is paid for by commissions generated by orders executed on behalf of AllianzGI's clients.
Source of all data (unless otherwise stated): Allianz Global Investors as at July 2016. No part of this material may be reproduced in any form, or referred to in any other publication, without express written permission. Allianz Global Investors is a trademark, registered in various countries throughout the world, including the United States.

© 2016 Allianz Global Investors. All rights reserved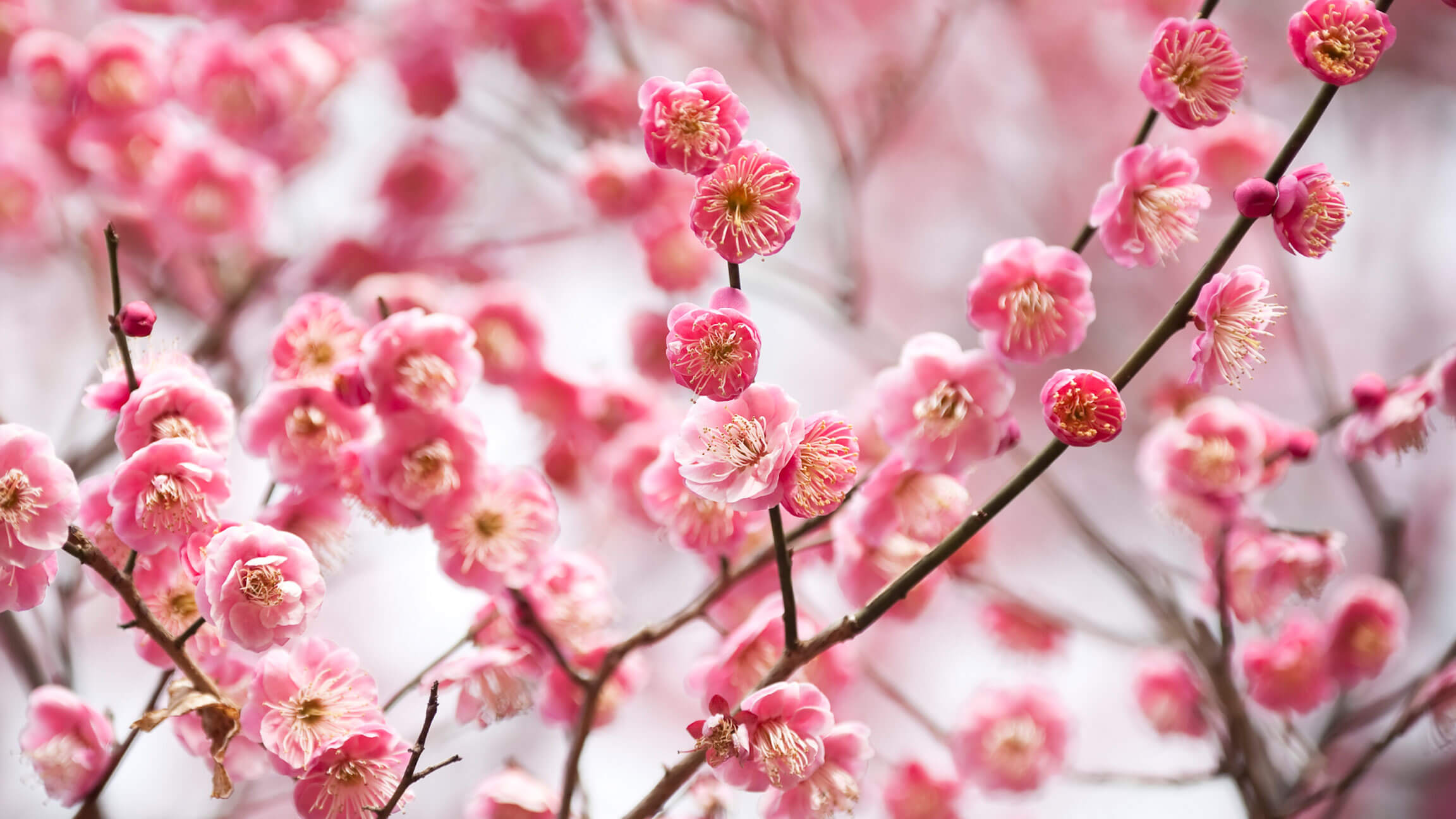 Summary
With support growing in Japan for Abenomics 2.0, the BOJ is under increasing pressure to use more of its tools and prove that its easing measures are effective. But the real key to overcoming deflation may be closer cooperation between the BOJ and Japan's government.
After winning Japan's Upper House election and establishing a two-thirds majority in the senate, the governing coalition led by Prime Minister Shinzo Abe seems to have found strong support for its "Abenomics 2.0" measures. This should allow for increased fiscal spending measures to match up with greater monetary easing, which in turn should help speed up Japan's exit from deflation.


With fiscal stimulus, the devil's in the details
Abe recently unveiled the government's plans for an economic stimulus package worth JPY 28.1 trillion – 5.6 per cent of Japan's GDP – to show support for the economy and to inflate the value of supplementary budgets. However, while the scale of the stimulus package looks good on paper, the devil is in the details. Even though the JPY 13.5 trillion in fiscal spending that was shouldered directly by the government was higher than expected, only JPY 7.5 trillion appears to be "fresh water" – and some of that may ultimately be parceled out over several years. That would not have an immediate impact on growth, especially as the timing of actual spending is uncertain.

With new fiscal stimulus measures under way, the Bank of Japan (BOJ) is feeling pressure to join the government in supporting Japan's economy, and anticipation was rising in advance of its 28-29 July monetary policy meeting (MPM). For the markets, the issue is that economic activity remains weak and price pressures are moderating; inflation expectations even fell further recently. Additionally, a stronger yen is weighing on profits and lowering firms' willingness to lift wages. All in all, there is a clear case to be made for more easing, and markets have been expecting swift and determined action to counter the idea that the BOJ is running out of ammunition.


A high bar for the BOJ to clear
However, the BOJ was not able to pull a rabbit out of its hat at its July meeting: It decided not to expand its overall pace of asset purchases, and not to lower its policy rate below -0.1 per cent. Yet the bank did announce plans to almost double its purchases of Japanese ETFs, to JPY 6 trillion annually, and announced that it intends to expand its dollar lending program for overseas investment, to USD 24 billion. Additionally, the BOJ will establish a new facility to lend Japanese government bonds to banks, which should cushion the drag on the banks' profits and provide more collateral – a particularly helpful program given today's negative interest rates.

The BOJ also recently noted that when it holds its next MPM on 20-21 September, it will conduct a comprehensive assessment of the effects of its current policy. This suggests that policymakers will wait until next month to consider further policy actions, which means that uncertainty about additional easing could linger until then. Nevertheless, this pause may give the BOJ the time to assess the government's fiscal stimulus plan. Given BOJ Governor Haruhiko Kuroda's penchant for surprising markets, policymakers could use this time to explore other easing options that are currently not on the table.

Overall, the Bank of Japan is in a tough position: It has not used all three dimensions of its monetary policy tools (interest rates, quantity and quality), and the market is questioning the effectiveness of QQE (qualitative and quantitative easing). At the same time, standing firm and doing nothing could increase the market's doubts about the effectiveness of the BOJ's monetary tool box.


Talk of 'helicopter money' could subside temporarily
Given the fading impact of standalone fiscal and monetary easing measures, the BOJ and Japan's government should be expected to more closely coordinate their efforts in the future – especially with the central bank's inflation goal at growing risk of slipping out of reach.

With so many factors are occupying the market's attention, we believe the sometimes intense discussions about helicopter money in Japan may quiet down – at least for now. Still, if the yen were to break the critical mark of 100 JPY/USD, the BOJ may again find itself under increasing pressure to decide what additional easing it is willing to deploy long before its September meeting.

BOJ Hopes Buying More ETFs Will Satisfy Disappointed Markets
At its 28-29 July meeting, the BOJ announced plans to almost double its purchases of Japanese ETFs, to JPY 6 trillion annually.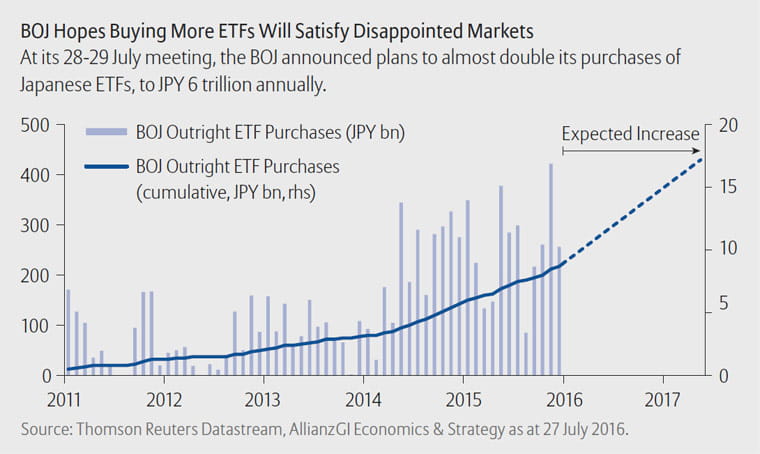 Investing involves risk. The value of an investment and the income from it will fluctuate and investors may not get back the principal invested. Past performance is not indicative of future performance. Equities have tended to be volatile, and unlike bonds do not offer a fixed rate of return. Emerging markets may be more volatile, less liquid, less transparent and subject to less oversight, and values may fluctuate with currency exchange rates. Bond prices will normally decline as interest rates rise. Below investment grade convertible and fixed-income securities involve a greater risk to principal than investment grade securities. This is a marketing communication. It is for informational purposes only. This document does not constitute investment advice. References to specific securities are not intended to be, and should not be interpreted as an offer, solicitation or recommendation to purchase or sell any financial instrument, an indication that the purchase of such securities was or will be profitable, or representative of the composition or performance of any AllianzGI product.
The views and opinions expressed herein, which are subject to change without notice, are those of the issuer or its affiliated companies at the time of publication. Certain data used are derived from various sources believed to be reliable, but the accuracy or completeness of the data is not guaranteed and no liability is assumed for any direct or consequential losses arising from their use. The duplication, publication, extraction or transmission of the contents, irrespective of the form, is not permitted.
This material has not been reviewed by any regulatory authorities. In mainland China, it is used only as supporting material to the offshore investment products offered by commercial banks under the Qualified Domestic Institutional Investors scheme pursuant to applicable rules and regulations.
This document is being distributed by the following Allianz Global Investors companies: Allianz Global Investors U.S. LLC, an investment adviser registered with the U.S. Securities and Exchange Commission (SEC); Allianz Global Investors Distributors LLC, a broker-dealer registered with the SEC; Allianz Global Investors GmbH, an investment company in Germany, authorized by the German Bundesanstalt für Finanzdienstleistungsaufsicht (BaFin); Allianz Global Investors Asia Pacific Ltd., licensed by the Hong Kong Securities and Futures Commission; Allianz Global Investors Singapore Ltd., regulated by the Monetary Authority of Singapore [Company Registration No. 199907169Z]; and Allianz Global Investors Japan Co., Ltd., registered in Japan as a Financial Instruments Business Operator; Allianz Global Investors Korea Ltd., licensed by the Korea Financial Services Commission; and Allianz Global Investors Taiwan Ltd., licensed by Financial Supervisory Commission in Taiwan. GrassrootsSM Research is a division of AllianzGI Research. Data used to generate GrassrootsSM Research recommendations is received from reporters and field force investigators who work as independent contractors for broker-dealers. Those broker dealers supply research to AllianzGI and certain of its affiliates that is paid for by commissions generated by orders executed on behalf of AllianzGI's clients.
Source of all data (unless otherwise stated): Allianz Global Investors as at July 2016. No part of this material may be reproduced in any form, or referred to in any other publication, without express written permission. Allianz Global Investors is a trademark, registered in various countries throughout the world, including the United States.

© 2016 Allianz Global Investors. All rights reserved