Making use of the right to vote at shareholder meetings is a key element in AllianzGI's approach to active stewardship
In 2017, AllianzGI voted at 7,961 shareholder meetings and on 83,488 proposals from both management and shareholder. This is up from 5,794 voted meetings covering 61,618 resolutions in 2016.

AllianzGI voted against both company and management in 2018 on a range of issues, including re-election of directors, executive pay and capital authorisations. In total, AllianzGI voted against management with at least one vote at 68% of shareholder meetings held in 2017, or 24% of individual proposals, underlining our commitment to voting against proposals that do not meet the expectations we have for investee companies. In 2017, AllianzGI voted against 12% of all resolutions or against at least one proposal in every second shareholder meeting.
Proxy voting activities
At AllianzGI, we take our fiduciary obligation to be an active shareholder very seriously. We therefore exercise our voting rights: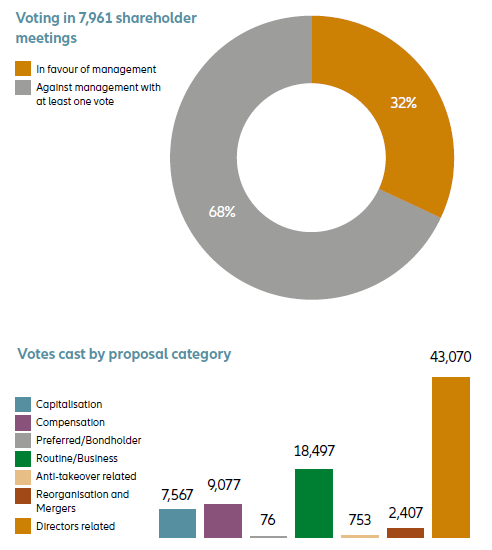 Proposals that were related to board and director re-elections were by far the most common at 2017's shareholder meetings, accounting for 53% of all votes cast by AllianzGI. This was followed by routine or business-related matters (23%), executive compensation and other pay issues (11%) and capitalisation (9%).

Alongside these themes, we continued our drive to engage companies around the world on strategy, governance, risk management, environmental, social and other topics that are deemed material for our investments.

Eugenia Unanyants-Jackson, Global Head of ESG research at AllianzGI, explains: "These votes are cast based on the same criteria in each region and high levels of disparity should be a wake-up call for companies in those markets that are lagging, including the US and France, to start adapting to globally rising standards.

"Consistent with our investment philosophy and approach, we routinely engage in dialogue with investee companies and seek proactively to present a viewpoint, usher change where necessary and monitor the results of our engagement.

"We do not expect a radical shift in the areas of most serious scrutiny, however, we will once again step up our engagement with issuers where our analysts and portfolio managers discern a weak connection between a company's strategic objectives, business value drivers and business practices."
Regional variations
AllianzGI's voting patterns highlight significant regional differences in corporate governance standards around the world. In Japan, AllianzGI voted against 45% of all proposals, compared with 35% in the US, 33% in France, 28% in Hong Kong, 13% in Germany and just 6% in the UK. These figures reflect the different stages of development in governance standards in the US and Japan compared with European markets.

Eugenia Unanyants-Jackson explains: "One of the key reasons for our high level of votes against compensation proposals in the US was a weak alignment between pay and performance, with US companies continuing to show an insufficient link between long-term key performance indicators and executive incentive plans."

Director-related proposals is another area where we see a vast gap in votes against between regions. In the US and France, the percentage of votes against director-related proposals is more than 30% compared with 7% in the UK.
Engagement activities help us to understand and mitigate the real risks of our holdings
All investment professionals at AllianzGI are committed to engaging with the boards and management of investee companies to help them improve performance and safeguard their longterm prospects.

Our 196 engagement activities across 11 industries and 19 markets – with executive and non-executive board members – enhance our understanding of a company, help us assess leadership and oversight, and build our confidence in the board and management.

The most common engagement activities relate to an investee company's strategy, operational or financial performance, capital management, corporate governance and proxy voting issues, and their environmental and social impacts. Our investment views are influenced by the outcome of these activities and linked to the proxy-voting process, forming a consistent stewardship approach.

Stewardship activities
In addition to our focus on direct engagement with the boards and management of sizeable holdings, we lead a series of targeted, themed engagement projects that can take different formats. We also participate in collaborative engagement initiatives aimed at improving corporate practices and disclosure of information at an industry or market level.
Engagement activities
Consistent with our investment philosophy and approach, we routinely engage in dialogue with investee companies and proactively seek to present a viewpoint and look for change where necessary: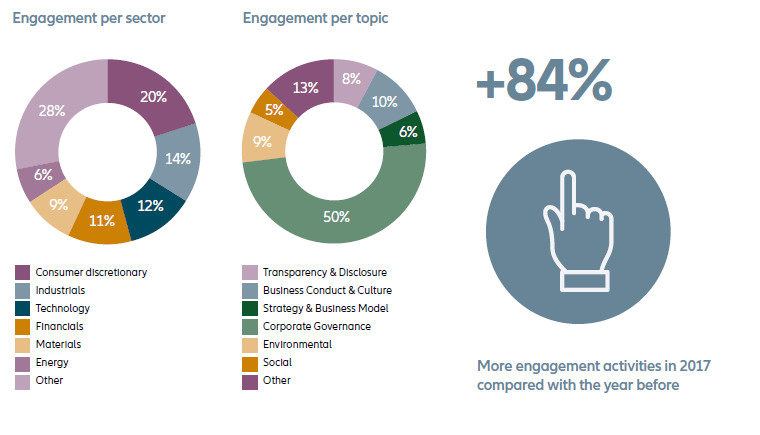 Our engagement in action
Mining sector and environmental issues
We engaged with a mining company on its management of climate changerelated risks. It was encouraging to learn about their efforts to decarbonise operations with improvements in energy efficiency and investment in new technologies. If implemented, these will prepare the company to better mitigate the potential financial impacts of tightening carbon regulations.
We encouraged the company to continue embedding carbon considerations into strategic planning and will monitor its progress.
Reducing supply chain risks in Bangladesh's garment sector
In 2013, AllianzGI signed the first investor statement calling on retailers to collectively pledge to implement the core labour standards of the International Labour Organization and join either the "Accord on Fire and Building Safety" or the "Alliance for Bangladesh Worker Safety".
Increased supply chain transparency, with a common standard for auditing suppliers and sharing findings, has driven positive change. We believe Bangladesh can be a showcase for industry collaboration, particularly as regulations to combat modern slave labour are refined.
Public policy engagement
AllianzGI responded to the public consultation for the annual revision of the German Code of Corporate Governance.
Our comments and suggestions for further improvements to the code focused on protecting minority shareholder rights; the composition, role and oversight of supervisory boards; managing company compliance; and management board compensation.
Collaborative engagement efforts
Since October 2015, AllianzGI has been project lead on the Sustainable Stock Exchanges Initiative (SSE), which asks stock exchanges to produce voluntary guidance for issuers on reporting ESG information.
We co-signed a letter to 70 exchanges, encouraging them to create more transparent and efficient capital markets. This coincided with the launch of the SSE's Model Guidance on Reporting ESG Information, a voluntary tool for stock exchanges to guide issuers.
By the end of the campaign, we had successfully encouraged 30 exchanges to commit to producing ESG guidance. As of December 2017, 18 exchanges have publicly released their guidance, with a further 12 committed to doing so in the future.
IT sector and social issues
We engaged with a company's directors on human capital-related risks. An initial meeting confirmed that it prioritised intellectual capital management. Yet while its employee turnover was low, human capital management was among its key operational risks.
The company successfully moved from a hierarchical structure to an agile model, and is being recognised as a top employer. Sales incentives are now aligned with overall business goals. We are confident that the talent pipeline and employee retention and development are well managed. Moreover, we have encouraged the company to amplify public disclosure to help shareholders track their ability to attract, recruit, retain and motivate employees.
Industrials sector and governance issues
We engaged with a non-executive board member after voting against proposals addressing the investee company's audit committee composition and remuneration of certain board members.
The discussion was constructive, revealing concrete steps taken by the board to improve governance standards at the company, and company-specific circumstances that could justify certain departures from conventional practices.