At AllianzGI, we engage in an on-going, forward thinking dialogue with every client. Alongside an active approach to investment and active engagement with our clients, we are active stewards of the assets we own.
Acting upon our fiduciary role as a responsible asset manager we aim to incorporate Environmental, Social and Governance (ESG) criteria throughout our entire investment value chain. Given the diversity of investors' objectives and requirements we provide tailored ESG and SRI processes with a broad range of approaches, adaptable to different levels of ESG incorporation and client preferences, enhancing our clients' investment decisions whilst helping create benefits for society as a whole.

AllianzGI has been a signatory to the United Nations Principles for Responsible Investment (UN PRI) since 2007.
Our credentials
Environmental, social and governance (ESG) factors are important investment performance drivers, from both a return and risk perspective.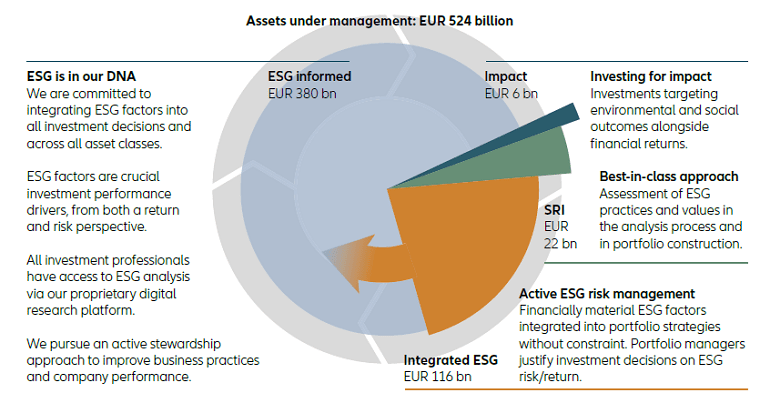 Stepping forward – AllianzGI
is a pioneer in ESG investing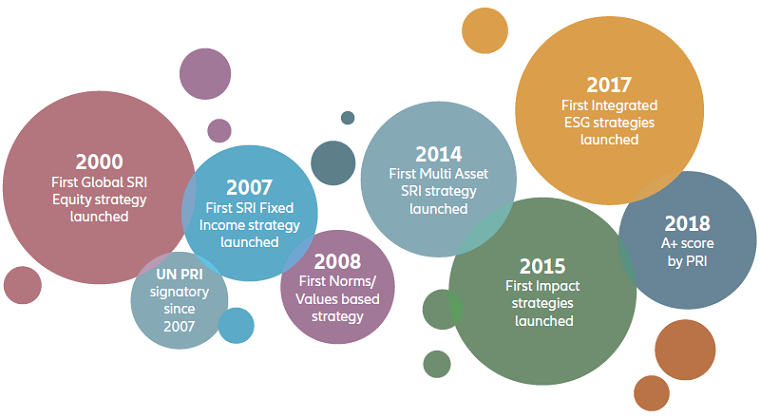 Our ESG strategy acknowledged by PRI
AllianzGI has received an A+ for its overarching approach to ESG Strategy and Governance for the second year running. This category encompasses AllianzGI's ESG policies, objectives and memberships of various organisations, and considers how the firm promotes ESG efforts internally and externally. We also received an A+ for the Infrastructure Equity module, which we reported on for the first time this year.
Module name
AllianzGI
score 2018
Median
score 2018
Strategy & Governance
A+
A
Listed Equity – Incorporation
A
B
Listed Equity – Active Ownership
A
B
Fixed Income – SSA
A
B
Fixed Income – Corporate Financial
A
B
Fixed Income – Corporate Non-Financial
A
B
Fixed Income – Securitised
A
C
Infrastructure Equity
A+
A
The annual assessment report from the PRI Association ("Principles for Responsible Investment") looks at how signatories are progressing with incorporating ESG factors into investment decisions, and aims to provide feedback to signatories to support the ongoing development of their ESG credentials.

The report presents a comprehensive overview of the assessed modules AllianzGI reported on and compares the respective AllianzGI performance to the peer group. Each module score ranges from "A+" (highest score) to "E" (lowest score) and is calculated from a respective set of indicators grouped together in module-specific sections. The scores for 2018 refer to the reporting period January – December 2017, while 2017 scores refer to reporting period January – December 2016.
The PRI assessment report is based on information reported directly by signatories. Moreover, the underlying information has not been audited by the PRI or any other party acting on its behalf.
Data as at 30 June 2018. Source: Allianz Global Investors. Any differences in totals are due to rounding. Impact comprises different strategies targeting climate transition, environmental projects and renewable energy. ESG = Environment, Social, Governance; SRI = Socially Responsible Investing; PRI = Principles for Responsible Investing; DJSI = Dow Jones Sustainability Index