Sustainability
We started our sustainable investing journey 20 years ago and were early to sign the United Nations Principles for Responsible Investment (UN PRI) in 2007. We believe that sustainable investing can generate positive performance not just for our clients, but for the community at large.
We aim to integrate environmental, social and governance (ESG) factors throughout our entire investment value chain to better manage risk and generate sustainable, long-term returns. Given the diversity of investors' objectives and requirements we provide sustainable investing processes with a broad range of approaches, adaptable to different levels of ESG incorporation and client preferences. These enhance our clients' investment decisions while helping create benefits for society as a whole.
Sustainable investing is in our DNA
Data as at 31 December 2019, AuM as at 31 March 2020
Active engagement at AllianzGI
At Allianz Global Investors, we take our responsibility as an active steward of our clients' assets very seriously.
Active engagement at AllianzGI
At Allianz Global Investors, we take our responsibility as an active steward of our clients' assets very seriously.
Making use of the right to vote at shareholder meetings is a key element in AllianzGI's approach to active stewardship
At AllianzGI, we take our fiduciary obligation to be an active shareholder very seriously. Just as active engagement is an important part of our active stewardship investment philosophy, we take our shareholder responsibilities seriously and fulfil them by exercising voting rights on behalf of our clients. Proxy voting enables us to vote during shareholder meetings on behalf of our investors. This allows us to have a say on important issues affecting companies we are invested in. Our voting decisions are informed by in-depth research and analysis and discussions with investee companies. AllianzGI is committed to full transparency of our proxy voting activities. We publish our detailed Global Corporate Governance Guidelines and Stewardship Statement, and provide a real time disclosure of all votes cast, including commentary on votes against management and abstentions.
Proxy voting by the numbers
Voting in 9,532* shareholder meetings
(2018: 8,535):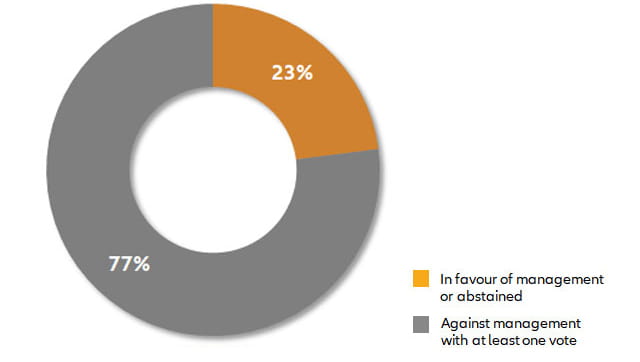 Voting on 97,928 proposals
(2018: 88,962):
* Equals 94.4% of all votable meetings
Source: Allianz Global Investors, 2020. For illustrative purposes only.
Executive compensation: we vote against increasing executive pay if we find a poor link between remuneration and performance, lack of transparency regarding key performance indicators (KPIs) and targets, or have concerns over potentially excessive executive pay. When reviewing executive compensation packages, we look for an emphasis on long-term performance across a reasonable range of key value drivers for the business.
Board independence and overboarding: we aim to promote independent boards and, when voting, our goal is to support boards that have a good balance of independence. We also strive to encourage diversity of background, experience and skills that are relevant to the business.
Auditor-related votes: as a guide for audit contracts, our expectation is that investee companies will regularly evaluate and renegotiate audit contracts and change auditors after a maximum of 20 years of service.
Capital-related reauthorisation: we cast a large number of votes on capital authorisations. In only exceptional circumstances and when justified by the company will AllianzGI support an increase in capital with pre-emption rights of greater than 33% (in Germany 30%), and an increase in capital without pre-emption rights of greater than 10%.
Environmental and social matters: shareholder proposals relating to environmental and social matters are particularly important to AllianzGI because we see them as a key part of our stewardship programme, aimed at reducing environmental and social risks in our portfolios.
Engagement activities help us to understand and mitigate the real risks of our holdings
As an active asset manager, we believe in high-quality research and gaining a deep understanding of the businesses in which we invest.
A significant part of our research focuses on understanding risks associated with our investments, including those related to environmental, social and governance (ESG) factors. Our portfolio managers, fundamental analysts and ESG analysts hold thousands of meetings with listed issuers every year to inform our investment decisions.
The majority of our meetings with companies are aimed at enhancing our knowledge of their business, management, performance and value drivers. We also believe that as an active manager, we are ideally positioned to engage in dialogue with investee companies and proactively seek to present our viewpoint, request change where necessary, and monitor the results of our engagement.
Our engagements are focused on issues specific to each company and idiosyncratic risks identified in our research process. For this reason, we also strive to make each engagement meeting impactful and productive for all participants by combining the input of the respective equity and fixed income analysts and portfolio managers with the insights of our ESG teams in order to give the company perspectives from all critical parts of our investment platform, presenting a 360 degree view. Our investment views are influenced by the outcomes of these engagements and are linked to the proxy voting process, forming a consistent stewardship approach.
Our preference is to engage investee companies on a confidential basis, but we are prepared to engage in a more public way if a company does not respond constructively. For instance, we participate in collaborative engagement initiatives, which are aimed at mitigating investment risks, improving corporate practices and seeking greater disclosure of information at an industry or market level. All investment professionals at AllianzGI are committed to engaging with the boards and management of investee companies to help them improve performance and safeguard their long-term prospects.
Number of companies engaged, by topic
AllianzGI engaged with 333 companies on 711 issues of which 68% were ESG-related.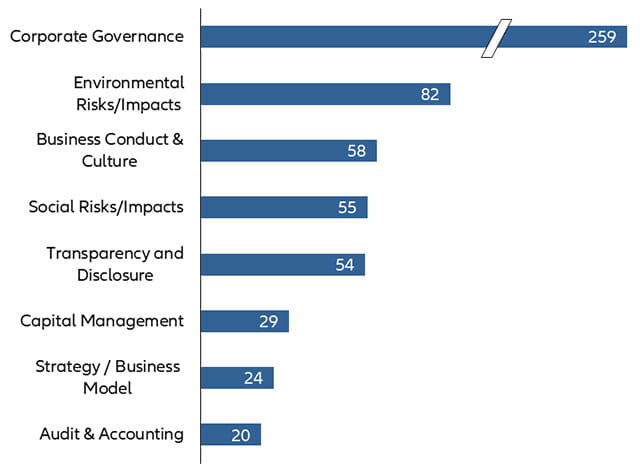 Source: Allianz Global Investors, 2020. For illustrative purposes only.
Engagement per geography
AllianzGI engaged 333 companies across 28 markets globally (2018: 247/21)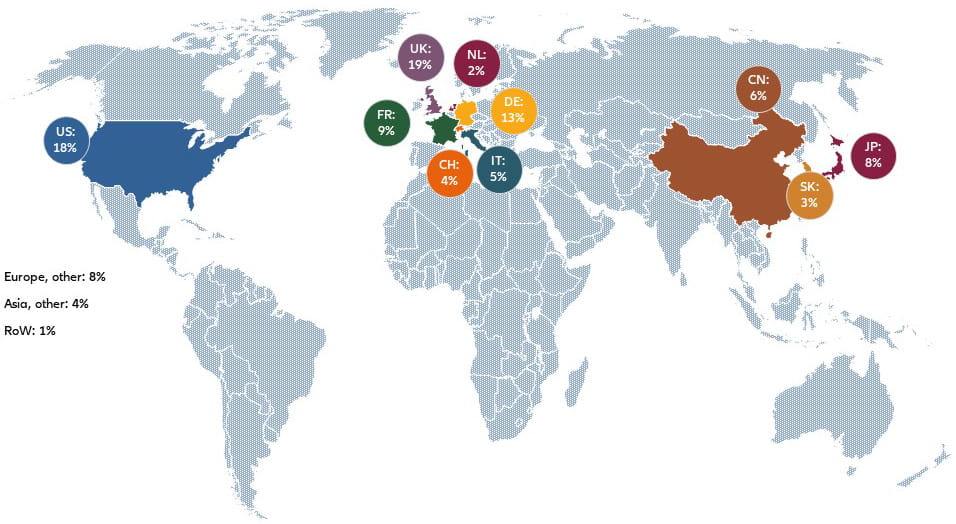 The category "Europe, other" contains Spain, Ireland, Russia, Sweden, Belgium, Denmark, Finland and Austria; "Asia, other" contains: Hong Kong, Singapore, Taiwan and India. "Rest of world (RoW)" contains: Australia, South Africa, Mexico, Brazil, Barbados
AUM data as at 31 March 2020. Source: Allianz Global Investors. Any differences in totals are due to rounding. Impact comprises different strategies targeting climate transition, environmental projects and renewable energy. Environmental, social and governance (ESG); Sustainable & responsible investing (SRI); Dow Jones Sustainability Index (DJSI); Principles for responsible investing (PRI). Sustainability leadership and inclusion in the DJSI are based on the research of and an evaluation of questionnaires submitted to RobecoSAM. The PRI assessment report is based on information reported directly by signatories. Moreover, the underlying information has not been audited by the PRI or any other party acting on its behalf.
1105452
Investing involves risk. The value of an investment and the income from it will fluctuate and investors may not get back the principal invested. [*] Past performance is not indicative of future performance. This is a marketing communication. It is for informational purposes only. This document does not constitute investment advice or a recommendation to buy, sell or hold any security and shall not be deemed an offer to sell or a solicitation of an offer to buy any security.

The views and opinions expressed herein, which are subject to change without notice, are those of the issuer or its affiliated companies at the time of publication. Certain data used are derived from various sources believed to be reliable, but the accuracy or completeness of the data is not guaranteed and no liability is assumed for any direct or consequential losses arising from their use. The duplication, publication, extraction or transmission of the contents, irrespective of the form, is not permitted.

This material has not been reviewed by any regulatory authorities. In mainland China, it is used only as supporting material to the offshore investment products offered by commercial banks under the Qualified Domestic Institutional Investors scheme pursuant to applicable rules and regulations. This document does not constitute a public offer by virtue of Act Number 26.831 of the Argentine Republic and General Resolution No. 622/2013 of the NSC. This communication's sole purpose is to inform and does not under any circumstance constitute promotion or publicity of Allianz Global Investors products and/or services in Colombia or to Colombian residents pursuant to part 4 of Decree 2555 of 2010. This communication does not in any way aim to directly or indirectly initiate the purchase of a product or the provision of a service offered by Allianz Global Investors. Via reception of his document, each resident in Colombia acknowledges and accepts to have contacted Allianz Global Investors via their own initiative and that the communication under no circumstances does not arise from any promotional or marketing activities carried out by Allianz Global Investors. Colombian residents accept that accessing any type of social network page of Allianz Global Investors is done under their own responsibility and initiative and are aware that they may access specific information on the products and services of Allianz Global Investors. This communication is strictly private and confidential and may not be reproduced. This communication does not constitute a public offer of securities in Colombia pursuant to the public offer regulation set forth in Decree 2555 of 2010. This communication and the information provided herein should not be considered a solicitation or an offer by Allianz Global Investors or its affiliates to provide any financial products in Brazil, Panama, Peru, and Uruguay. In Australia, this material is presented by Allianz Global Investors Asia Pacific Limited ("AllianzGI AP") and is intended for the use of investment consultants and other institutional/professional investors only, and is not directed to the public or individual retail investors. AllianzGI AP is not licensed to provide financial services to retail clients in Australia. AllianzGI AP (Australian Registered Body Number 160 464 200) is exempt from the requirement to hold an Australian Foreign Financial Service License under the Corporations Act 2001 (Cth) pursuant to ASIC Class Order (CO 03/1103) with respect to the provision of financial services to wholesale clients only. AllianzGI AP is licensed and regulated by Hong Kong Securities and Futures Commission under Hong Kong laws, which differ from Australian laws.

This document is being distributed by the following Allianz Global Investors companies: Allianz Global Investors U.S. LLC, an investment adviser registered with the U.S. Securities and Exchange Commission; Allianz Global Investors Distributors LLC, distributor registered with FINRA, is affiliated with Allianz Global Investors U.S. LLC; Allianz Global Investors GmbH, an investment company in Germany, authorized by the German Bundesanstalt für Finanzdienstleistungsaufsicht (BaFin); Allianz Global Investors (Schweiz) AG; Allianz Global Investors Asia Pacific Ltd., licensed by the Hong Kong Securities and Futures Commission; Allianz Global Investors Singapore Ltd., regulated by the Monetary Authority of Singapore [Company Registration No. 199907169Z]; Allianz Global Investors Japan Co., Ltd., registered in Japan as a Financial Instruments Business Operator [Registered No. The Director of Kanto Local Finance Bureau (Financial Instruments Business Operator), No. 424, Member of Japan Investment Advisers Association and Investment Trust Association, Japan]; and Allianz Global Investors Taiwan Ltd., licensed by Financial Supervisory Commission in Taiwan.

[*Subject to change – depends on the content of the material which may mention certain investment instruments that involve particular risk]